The Chilling: A global study of online violence against women journalists was published in full in November 2022. See the final study, drawing from interviews and surveys of more than 850 women journalists.
The United Nations Educational Scientific and Cultural Organization (UNESCO) has published research produced by the International Center for Journalists (ICFJ) as part of a major interdisciplinary study being led by ICFJ's research team. The research, the most comprehensive of its kind, shows that the disturbing trend of online violence - from doxxing to death threats - is often tied to larger disinformation campaigns aimed at undermining public trust in fact-based journalism.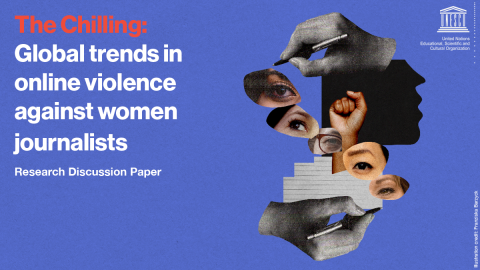 The research underpinning this paper consists of:
Long-form interviews with 173 international journalists, editors, and experts in the fields of freedom of expression, human rights law, and digital safety;
Two big data case studies assessing over 2.5 million posts on Facebook and Twitter directed at two prominent women journalists (Maria Ressa in The Philippines and Carole Cadwalladr in the UK) undertaken to validate the self-reporting of our interviewees and survey respondents with objective data; 
A global survey of 901 journalists from 125 countries conducted in five languages;
Fifteen detailed country case studies; 
A literature review covering hundreds of scholarly and civil society research publications.
A team of 24 international researchers from 16 countries contributed to the study. The book-length study will be published by UNESCO in mid 2021.
The research shows that vicious online violence that seeks to silence women journalists and discredit their reporting is a growing problem. Because of their race, sexual orientation and religion, some women face even more frequent and vitriolic attacks. For example: 
While 64% of all white women journalists surveyed said they had experienced online violence, the rates were higher for those identifying as Black (81%), Indigenous (86%), and Jewish (88%).
The rates of online violence experienced by lesbian and bisexual respondents were 88% and 85%, respectively, compared to 72% of heterosexual women.
Arab women are substantially more at risk of experiencing offline attacks connected to online violence (53% compared to 20% overall), the survey data shows.
The study also reveals how online violence against women journalists is linked to disinformation and poiltical extremism. A total of 41% of the survey respondents said they had been targeted in online attacks that appeared to be linked to orchestrated disinformation campaigns. In addition, most of the women interviewed experienced disinformation-based attacks designed to smear their personal and professional reputations, from accusations that they peddle 'fake news' to the spread of false narratives about their personal lives and the use of 'deepfakes.' 

These attacks have a chilling effect on women's journalism and their freedom of expression: Nearly one-third (30%) of survey respondents who reported experiencing online violence said they self-censored on social media in response, while one in five (20%) described how they withdrew from all interaction online. 
Content warning: This report includes graphic content that illustrates the severity of online violence against women journalists, including references to sexual violence and gendered profanities. This content is not included gratuitously. It is essential to enable the analysis of the types, methods and patterns of online violence.
For inquiries, please contact:
ICFJ: Dr. Julie Posetti (jposetti@icfj.org) 
UNESCO: Clare O'Hagan (c.o-hagan@unesco.org)
Note: If you've found this content distressing or difficult to discuss, you're not alone. There are resources available to help. Start by exploring the resources from the Dart Center for Journalism and Trauma, and please seek psychological support if needed. Sign up for updates on the soon-to-be launched Online Violence Response Hub.