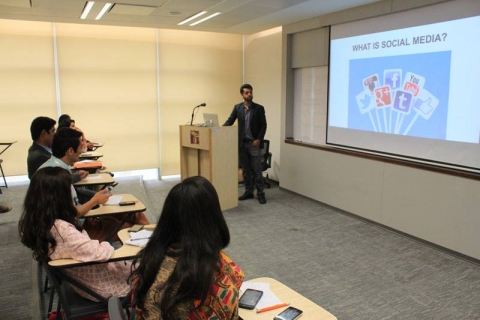 More than 120 participants in ICFJ's Pakistan-U.S. Professional Partnership program updated their digital journalism skills at an alumni summit held in July at the Centre for Excellence in Journalism in Karachi.
The summit featured sessions with six U.S. and Pakistani trainers on cutting-edge issues in journalism:
Effective use of social media
Multimedia interactive storytelling
Digital tools in investigative reporting
Data journalism
Digital security
Journalism ethics in the digital age
Ethan Bronner, managing editor for international news at Bloomberg and a 17-year reporter and editor for The New York Times, gave a keynote speech drawing largely on his years covering the Israeli-Palestinian conflict for the Times. Bronner also moderated a panel discussion on conflicts of interest in covering the news, while ICFJ Vice President Patrick Butler moderated a panel discussion on the future of news, featuring top Pakistani print and broadcast editors.
Participants and trainers said the alumni summit is filling a vital gap for Pakistani journalists who often don't have the digital skills they need to keep up with the changes roiling the media today.
#ICFJAlumniSummit concluded with a lavish dinner & some music. Check out complete album here: http://t.co/XNO0hKL1vs pic.twitter.com/VC57Q8f4TG

— CEJ (@CEJatIBA) August 9, 2015
The participants are among about 200 alumni of the ICFJ exchange program. Each participant has spent about a month in the United States, with most of that time at a media organization, working side-by-side with American counterparts and building long-term partnerships. In another phase of the program, U.S. journalists who have hosted Pakistanis in their newsrooms travel to Pakistan to learn about that country's media, government and culture.
The summit was held at ICFJ's new Centre for Excellence in Journalism (CEJ) at the Institute of Business Administration in Karachi, which organized the gathering. The exchange program and the CEJ are funded by the U.S. Department of State and the U.S. Embassy in Pakistan.
Below, some of the trainers and participants talk about their experience at the alumni summit.
Instructor Lam Thuy Vo, who conducted the session on Video/Multimedia-Interactive Storytelling during the #ICFJAlumniSummit, had known little about the conditions under which Pakistani journalists work. After meeting and getting to know the individual stories of the journalists from across Pakistan, Lam termed her experience as 'eye opening'. Watch more here:

Posted by CEJ on Thursday, July 30, 2015
I ended up gaining more from Pakistani journalists: Wajahat Ali

Wajahat Ali said that engaging with the Pakistani journalists was an amazing opportunity for him, and it made him realize that despite considerable risks to their lives and challenges, Pakistani journalists are still striving to tell a story and do good work. "I ended up gaining more", he added.

Posted by CEJ on Sunday, August 9, 2015
Correspondent Bol TV shares her experience

One of the participants in the #ICFJAlumniSummit, Rubab Hussain who is correspondent at Bol TV said that all the sessions were different and enhanced her skills not only professionally but personally as well.

Posted by CEJ on Monday, August 10, 2015

Related content: Beyond Pink Journalism - The Nation