Chief Executive Officer, Agência Lupa, Brazil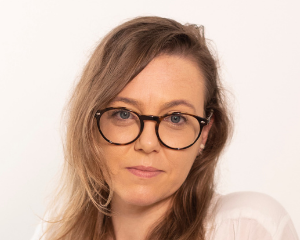 Natália Leal is the chief executive officer at Agência Lupa, the first fact-checking news outlet in Brazil. She is a digital media innovator who is committed to bringing factual information to people across Brazil, including in places that are poorly served by trustworthy news media. An app she created to demonstrate the devastating toll of COVID-19 inspired The Washington Post's own version. 

For her outstanding fact-checking during the pandemic, when rampant disinformation has spread through Brazil, Leal is a 2021 Knight International Journalism Award winner. The International Center for Journalists gives this award to outstanding journalists whose work has had tremendous impact.

Under her leadership, Agência Lupa conducted more than 700 fact checks on the pandemic, including debunking widespread rumors that empty coffins were being buried to make the pandemic look more serious, and that more people died in Brazil in 2019 than in 2020. 

Some of that disinformation has been promoted by President Jair Bolsonaro, who has repeatedly downplayed COVID-19 despite the fact that more Brazilians have died of the disease than in any country but the United States. Agência Lupa's fact checks led to online attacks against Leal from the president's supporters.

Early in the pandemic, Leal wanted to show Brazilians the toll of the disease in a way that felt more personal than raw numbers. She conceived the idea of "At the Epicenter" and led its development. The app simulates for a user what her neighborhood would look like if all Brazilians killed by COVID-19 were concentrated nearby.

Seeing the number of Brazilian victims clustered in her neighborhood or city, the user realizes how far she would have to travel from home to find another living person. TV Globo, the country's largest network, highlighted the app in its broadcasts, greatly expanding the audience of the app, which has had almost a million views. The innovative tool inspired The Washington Post to replicate the project for the United States.

The app won awards from the Society of News Design (Best in Show-small newsroom) and WAN-IFRA (top data visualization project at LATAM Digital Media Awards).

Google News Initiative funded the development of the tool, with technical support from designers led by Alberto Cairo, Knight Chair in Visual Journalism at the School of Communication of the University of Miami.

In 2020, Leal also created a "Digital Democracy" project to spread fact-checking about the country's municipal elections across the country, partnering with a university radio network. The project conducted more than 150 fact-checks in 137 cities, especially in "news deserts" outside Brazil's main cities where factual information is difficult to find.

In 2021, Leal is leading a new project to bring fact-checked information about vaccines to people across Brazil.

Leal has worked with Agência Lupa since 2017, beginning as an assistant editor and rising to oversee all of the agency's fact-checking content. Before that, she was a reporter, editor, editor-in-chief, and production coordinator in different Brazilian news outlets such as Bandeirantes, Terra, Zero Hora, Diário Catarinense and Poder360. 
ICFJ Tribute to Journalists 2021