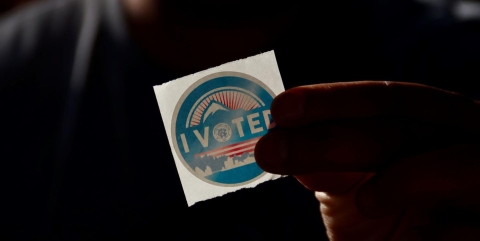 From Argentina, where a far right libertarian candidate has emerged as the frontrunner in the general election this fall, to Mexico, India and the U.S. in 2024, the results of pivotal upcoming elections will have implications for democratic norms globally.

As the campaigns ramp up, so too will disinformation seeking to deceive voters.

Meanwhile, major social media platforms have scaled back efforts to mitigate the spread of false content on their apps. Countries such as Russia and China continue to wage disinformation campaigns of their own, and the growing sophistication of artificial intelligence has heightened malicious actors' capabilities.

ICFJ Senior Vice President Patrick Butler outlined this worrying landscape while moderating a panel on disinformation around elections at the 2023 Online News Association conference.

"I think it's fair to say that most people agree that disinformation in the 2024 elections is going to be worse than anything we've ever seen," said Butler.

Joining him for the discussion were ICFJ Knight Fellow Laura Zommer, the director and editor of Chequeado and the co-founder of Factchequeado; Jonathan Lai, a data and politics editor at Politico, and a former data and democracy reporter at The Philadelphia Inquirer; and Nasr ul Hadi, another ICFJ Knight Fellow, and the founder of PROTO.

Here are some of the key takeaways from the session for fact-checkers and journalists to keep in mind for upcoming elections.

Be direct – and repetitive

It's critical that reporters convey the fundamental details around an election in a clear way. Do it over, and over, and over again.

"We tried as much as possible to be very clear and direct with language," said Lai, reflecting on The Philadelphia Inquirer's coverage of the 2020 U.S. election. "We're not going to be people who are like, 'Donald Trump's false claims about elections.' We're just going to be like, 'Trump lied.'" 

To build trust with their readers, Lai and his team at The Inquirer have used call-out boxes in their articles to explain editorial decisions and clarify political jargon. The paper also carries out service journalism around elections, for instance producing guides for voters and maps to polling locations.

People don't read every story you write, Lai noted. The more times you write a similar piece, the more people will see it.

Lai recalled writing a series of stories that addressed how Pennsylvania's vote in the 2020 election would likely take days to tally, and would shift from red to blue. "I wrote that [first] story in January 2020," he said. "I wrote at least 10 other versions of that story the rest of the year."
 
Collaborate, and meet your audiences where they are

Fact-checking alone can't solve the issue of disinformation. Nor can it save democracy all by itself. Fact-checkers should partner with one another and with those outside the industry to amplify their efforts. Newsrooms must do the same.

Hadi suggested journalists consider several questions when working together: "What other actors do we need to be collaborating with? What types of actions do we need to be taking to be able to understand the problem?" he said. "In particular, how do we ensure that distribution of the good information [...] could work better?"

Journalists and fact-checkers must better understand the audiences they serve, and mold their efforts accordingly. They should be willing to experiment: figure out what platforms are most popular, and where the disinformation is circulating. 

Factchequeado, Zommer explained, uses WhatsApp to disseminate its fact-checks  as disinformation among Latino communities tends to spread on the platform. "If you are covering anything related to Spanish-speaking or Latino communities in the States you should think about disinformation [on WhatsApp] and figure out ways to address that," she said.

Newsrooms should adapt their content to reach audiences in different formats, too. At The Inquirer, Lai's team repackaged reporting in explanatory videos. Factchequeado, too, plans to prioritize short videos and explainers in its coverage of the 2024 U.S. election. 

"We need to listen, and to be in the community," said Zommer. "These people don't necessarily believe in the media or journalists. That's a relation that we need to build, and we are building that with our allies that already have their own communities."

Think like a troll

Journalists should think like the trolls spreading false information online, the panelists agreed. Ask yourself how you might be able to intentionally misinterpret what you are reporting, suggested Lai.

"Sometimes the problem is, even when you're being accurate and fair and journalistically good, it can really easily be weaponized by a bad actor," he said. "And that means that, unfortunately, you have to play defense as you're writing the story in the first place."

Understand that bad information plays on people's emotions, too, Hadi advised.

"Bad information has emotional appeal. It speaks to the emotional part of the target audience," he said. "Good information has logical appeal; it speaks to a totally different part of the brain. They're not combating on the same front."

AI is another consideration. Deepfakes, for instance, have proliferated, and AI is helping disinformers package them to go more viral, Hadi continued: "Meanwhile, the good information side is essentially using [AI] to improve databases of fact checks and structure that information better, [and] try and essentially make it more discoverable. Again, those two are operating on very different fronts."

Prepare now

Bad actors are always ahead of fact-checkers, cautioned Zommer. What happened in a previous election won't necessarily play out the same way in the next, or in another country.

"It's not enough to have your newsroom working in the places or the channels that, the election before, were the most relevant. One of our challenges is to know, for 2024, where the Latino community [in the U.S.] is going to be getting information," explained Zommer. 

Recognize, too, that the disinformation landscape has deteriorated, and adjust accordingly.

"There's so many different communities, especially where I come from. The top two narratives of the day will vary according to the language in India, according to the geographic region, according to the community," said Hadi. "We just don't have enough infrastructure, especially with Big Tech cutting off funding to not just the election teams, but also the fact-checking organizations."

With the U.S. presidential election just over 14 months away, journalists must get to work, well, yesterday. 

"Talk to your team. Start preparing them," said Lai. "What are the things that you need to know: do you know who runs elections? Do you know how poll workers are selected? Do you know how polling places are set up and how they are run? How do the voting machines work? How are the votes cast? Literally, how are the votes counted? It is these little details that become the seed of the mis- and disinformation that we see during election time."