India: Reinventing the Newsroom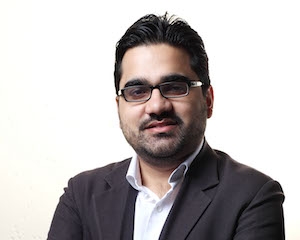 ICFJ Knight Fellow Nasr​ ​ul​ ​Hadi​​ leads a team of Fellows in India that is building digital tools and storytelling templates to empower journalists to produce more interactive coverage on health, gender and development issues. This has led to groundbreaking reporting that illuminates the ways in which women are leading in non-traditional fields in India, the factors that affect groundwater quality and the chaos inside a major Delhi hospital, among other projects.
During his three years as an ICFJ Knight Fellow, Hadi has worked with newsrooms in India -- and beyond -- to expand the use of digital-led best practices among journalists and hack their culture. He helps newsrooms build teams, set up workflows and establish hierarchies that maximize resources and ensure collaboration.
Hadi has provided strategic support to New Jersey local news outlet SNJ Today to optimize its newsroom for the digital age by turning their siloed-off newsroom into a space where reporters across the board can collaborate and share resources to maximize quality and efficiency. He helped SNJ to create a new organizational chart, using a newsroom workflow model called SPADE, which he developed during his Fellowship. He also helped identify key positions, such as a dedicated analytics staffer, that were missing from the newsroom.
As an ICFJ Knight Fellow in 2015, he helped to transform the Hindustan Times, one of India's most respected print media outlets, into a leader for digital storytelling in India by bringing together journalists, technologists and product strategists in the newsroom. In taking digital to the forefront of its news operations, HT was able to produce in-depth multimedia stories, often unlike anything else being created by Indian news organizations at the time.
Hadi is the lead organizer of Hacks/Hackers India, part of a global community working at the intersection of journalism and technology. He studied​ ​engineering​ ​at​ ​Aligarh​ ​University​ ​and​ ​digital​ ​media​ ​at​ ​Columbia​ ​University.