India: Reinventing the Newsroom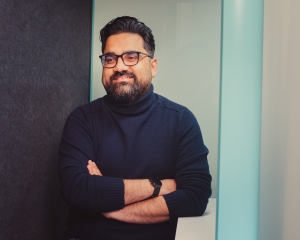 ICFJ Knight Fellow Nasr​ ​ul​ ​Hadi​​ is leading new efforts to develop journalists' digital talents, and promote experimentation and collaboration amongst players in the Indian media ecosystem. Alongside fellow ICFJ Knight Fellow Rittvij Parrikh, Hadi co-founded PROTO, a media development start-up focused on innovation, research and peer-to-peer learning for journalists in India. Hadi has worked with newsrooms in India -- and beyond -- to expand the use of digital-led best practices among journalists and hack their culture. He helps newsrooms build teams, set up workflows and establish hierarchies that maximize resources and ensure collaboration. His work has empowered journalists to produce more interactive coverage on health, gender and development issues. 

As an ICFJ Knight Fellow, Hadi is: 

• Driving Digital Innovation to Improve Journalism and Societies:
Hadi is bringing together journalists, technologists and product strategists through weekly, monthly, and quarterly PROTO events to showcase innovative reporting projects, catalyze experimentation and encourage media leaders to embrace tech-driven disruption. The organization has held learning sessions on topics such as design thinking in the newsroom, building immersive journalism experiences, data and statistics, as well as civic journalism in the digital age.

Hadi has provided strategic support to New Jersey local news outlet SNJ Today to optimize its newsroom for the digital age by turning their siloed-off newsroom into a space where reporters across the board can collaborate and share resources to maximize quality and efficiency. He helped SNJ to create a new organizational chart, using a newsroom workflow model called SPADE, which he developed during his Fellowship. He also helped identify key positions, such as a dedicated analytics staffer, that were missing from the newsroom.

As an ICFJ Knight Fellow in 2015, he helped to transform the Hindustan Times, one of India's most respected print media outlets, into a leader for digital storytelling in India by bringing together journalists, technologists and product strategists in the newsroom. In taking digital to the forefront of its news operations, HT was able to produce in-depth multimedia stories, often unlike anything else being created by Indian news organizations at the time.