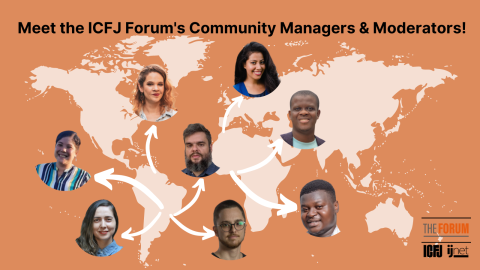 It has been more than  two years since the COVID-19 pandemic began and ICFJ launched its award-winning Global Health Crisis Reporting Forum, a community engagement initiative connecting scientists  and veteran health reporters to thousands of journalists around the world who suddenly needed to become health experts. Early this year, we expanded the Forum – now branded  the ICFJ Pamela Howard Forum for Global Crisis Reporting – to tackle the challenges of the future and help journalists, editors and media workers cover critical global issues of local importance.

This community could not have been built without our driven, all-star team of community managers and moderators overseeing our five language fora – in Arabic, English, French, Portuguese and Spanish. Beyond managing the five fora, these journalists are increasingly being recognized as international leaders as they build our community on a regional and global level. 

Read on to learn more about these inspiring individuals and what they have been doing to strengthen journalism in their regions.
Brazil
Our Portuguese-language Forum is led by Alexandre Orrico and moderated by Daniel Dieb, both based in São Paulo. 

The Paraisópolis Reporting Project 
The Albert Einstein Hospital, a leading health institution in Latin America, appointed Dieb to be the tutor and editor of the Paraisópolis Reporter project. The project's mission is to prepare young students from the Paraisópolis favela to create a local newspaper focused on health and science. The project managers — Fabiana Cambricoli and Gabriel Alves, two journalists who have been guests on our Forum sessions about COVID-19 — made it very clear that the reason for this invitation by the hospital was the work we are developing on the Portuguese Forum. Dieb is inspired by the work done on training sessions about health and science to encourage and teach students to create stories from the favelas.

Launching a Newsletter for Science Communications in Brazil
Orrico used the resources, interviews and knowledge he's gained from the Forum to build Polígono, a Science and Health newsletter. This project will be expanded to include a social media training program for scientific communicators.

Paraguay / Venezuela
Here are highlights from our Spanish-language forum, led by Desirée Esquivel and moderated by Dariela Sosa and Ylda Rodríguez.

Teaching the Next Generation of Latin American Reporters
Esquivel, who is based in Paraguay, was invited to teach community management and entrepreneurial journalism at the Universidad Autónoma De Asunción, Paraguay, for Communication and Journalism Week 2022. Esquivel spoke at the Universidad San Gregorio de Portoviejo in Ecuador about the Spanish-language ICFJ Forum in a radio interview as well. 
Esquivel and Sosa, of Venezuela, also held the second edition of El Foro en tu Universidad (The Forum at your University), a program led by the Spanish-language Forum team to bring the ICFJ Forum's work to regional journalism students, with more than 27 students from Puerto Ordaz, Venezuela. Both have participated as speakers on behalf of the Forum at several international online events. They spoke about how journalism can help raise awareness about the rights of children and adolescents during the pandemic, on the future of journalism at an event organized by Distintas Latitudes, and on several subjects for the Science Journalism Forum.
Sosa, who also spearheads the Forum's impact collection efforts, highlighted the work of the ICFJ Forum in Spanish to more than 200 British and Mexican doctors and health experts at the "Knowledge and Transformation Health Forum" organized by London School of Economics students. 
In addition to managing the Forum community, Esquivel recently founded and launched El Otro País, the first digital media outlet specializing in solutions journalism in her country, Paraguay. 
Rodríguez, in addition to being in charge of the graphic design of all the forum groups, directs Angapy, a graphic design agency. She is also coordinator of the design and audiovisual department at Última Hora newspaper, one of the most important media in Paraguay.

Togo
Kossi Balao, the community manager for our French-language Forum, has been busy promoting science journalism in Africa. Here are some of his highlights: 

Networking Science Journalists from the Francophone World
Balao is organizing the first conference of francophone science journalists in October 2022, in Senegal. This event will bring together reporters and editors from three continents to discuss science journalism in the face of the climate emergency. Balao is also working on a prize to reward international reporting projects covering scientific topics. The conference and the proposed prize won the Spark Grant Initiative (SGI), run under the auspices of the World Federation of Science Journalists (WFSJ). 
In addition, Balao was a panelist for a pandemic journalism masterclass organized by the Norwegian Association for Investigative Reporting (SKUP). He was invited by Gaston Berger University (UGB) in Senegal to attend the African Research Matters international conference. The conference was convened to discuss African futures in response to global challenges. He also participated in a round table hosted by the Africa Centres for Disease Control and Prevention (Africa CDC), a technical institution of the African Union, to explain COVID-19 vaccination challenges in Africa and how the media can save lives by publishing accurate news.

Nigeria
Our English-language Forum's community manager, Paul Adepoju, has been jet-setting these past few months attending a series of conferences and speaking events. Here's the scoop:

Sharing the Importance of Science Journalism
Adepoju was a speaker on a panel at WAN-IFRA's Newsroom Summit 2022, alongside Suzanne Franks, professor of journalism at City University of London, and Tanya Lewis, senior editor for health and medicine at Scientific American. The panel addressed, "Science in the newsroom: How to increase the rigor and critical elements of science journalism." Adepoju was also invited to speak at the Journalism and Climate Change e-Summit, also hosted by WAN-IFRA, alongside former ICFJ Knight Fellow Harry Surjadi. 
In addition, Adepoju attended the United Nations Climate Change Conference 2021 (COP26) in Glasgow, Scotland, and livestreamed the event to the ICFJ Forum discussing some of the issues concerning climate change and the pandemic. He has also hosted webinars for the Forum from the sidelines of major events including the recently held Geneva Health Forum in Switzerland. He was recently engaged by the ​​Konrad Adenauer Foundation to train journalists from across Africa on how to localize coverage of the WHO's World Health Assembly to highlight local crises.
Adepoju will be heading to Leiden, Netherlands, in July 2022 to participate at the European Conference of Science Journalism 2022, where he will be sharing insights from the Forum with attendees from across Europe and beyond.

Morocco
Our newest community manager, Fadwa Kamal, helped us launch our Arabic-language Forum in May. 
Kamal was invited as a panelist expert to the UNESCO World Press Freedom Day Conference-Debate in Morocco in May. During the round table on "Press freedom and the safety of journalists," Kamal and other panelists highlighted the advantages and the challenges associated with technological advances in the freedom of expression and the safety of journalists. She provided recommendations to foster high-quality journalism in the digital age, focusing on protecting women journalists. 
Kamal also joined the media department at Ibn Tofail University in Kenitra, Morocco, where she teaches digital media and digital content management to media entrepreneurship students. Kamal is currently working as program coordinator for the Journalism Ethics in the Middle East and North Africa training, an ICFJ and Meta Journalism Project program. 
Kamal was also called on as an expert speaker and trainer for the SAADA (Social Action Against Disinformation Alliance) training of trainers in January 2022. The program is implemented by AFCD Foundation and funded by the U.S. Embassy in Morocco.
In February, in Essaouira, Morocco, Kamal was selected among the 2021-2022 best personalities by the International Center for Legal and Institutional Activities in partnership with the Ministry of Culture, Youth and Communication and the Regional Council, and the Essaouira Mogador Association, for her rich contributions in communication and digitization trainings in Morocco and abroad.