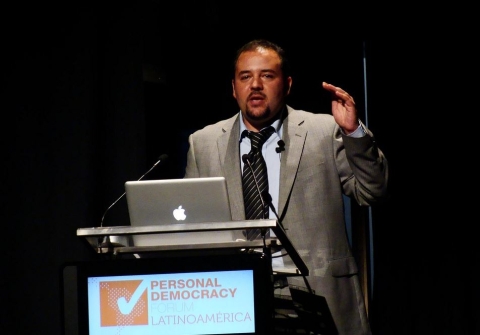 Miguel Paz, a digital media strategist and former Knight Fellow with the International Center for Journalists (ICFJ), has been selected by CUNY Graduate School of Journalism as a distinguished lecturer in data journalism and multimedia storytelling.
"He is a leader in using innovative approaches to data journalism to build more vibrant, transparent communities," said Sarah Bartlett, dean of the CUNY Graduate School of Journalism.
A native of Chile, Paz developed the award-winning platform Poderopedia in 2011 through a Knight News Challenge grant. The site was launched to promote transparency in Chile by monitoring conflicts of interest in business and politics. It was expanded to include Colombia and Venezuela in 2013 and 2014 during Paz's tenure as an ICFJ Knight Fellow.
Paz also serves as president of the Poderomedia Foundation, an organization that promotes the use of new technologies to increase government accountability. He co-created the Hacks/Hackers Chile chapter in Santiago and was named the 2012 Start-Up Chile winner. Paz formerly worked as deputy director of ElMostrador.cl, Chile's first digital-only news organization. He holds a bachelor's degree in journalism from Universidad de Arte y Ciencias Sociales (ARCIS). In 2014, he was selected to be a Nieman Berkman Fellow for Innovation in Journalism and spent one year studying at Harvard and in the MIT Media Lab about new data visualization models and innovative news startups.
"I am honored to join the school and its amazing faculty members in their goal of reshaping the way we teach, learn and do journalism for and with our communities," said Paz.
Image CC-licensed on Flickr via LuisCarlos Díaz.