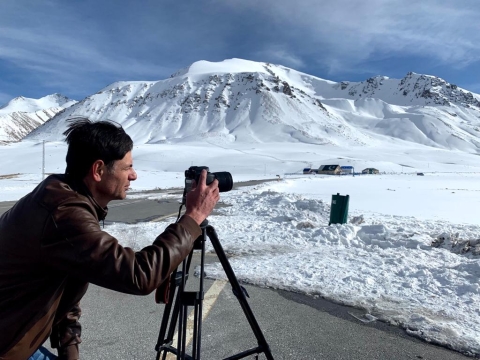 When Sana Batool started teaching mass communications at her alma mater in Pakistan, she realized that the curriculum did little to prepare future journalists for the challenges of a fast-evolving workplace. 
"It was an impractical approach towards journalism — normative and theoretical," said Batool, a staffer at one of Pakistan's largest English-language daily newspapers. "We weren't even teaching students about new media."
Then she took a data journalism course at the Centre for Excellence in Journalism (CEJ), and learned about its new Masters of Science in Journalism (MSJ) program. The degree program is part of CEJ and focuses on cutting-edge, practical reporting skills. CEJ was launched in 2016 by ICFJ, Northwestern University's Medill School of Journalism and the Institute of Business Administration (IBA) in Karachi. ICFJ oversaw construction of the center's facilities, including state-of-the-art television and radio studios, computer labs and more, and helped train the program's inaugural faculty members at the Medill School. 
In December 2019, Batool was one of 17 students to graduate from the first class of the 18-month master's program. The nine women and eight men in the inaugural master's degree class came from a variety of fields, from journalism and communications to business, public administration, the arts and agriculture. They are helping usher newsrooms into the digital era, bringing unique skills to their teams and finding innovative ways to cover underreported topics and areas. 
Batool, who is part of a small team at The Express Tribune working to develop a multimedia portal on education reporting, says she applies what she learned during the MSJ every day. In particular, she said she is able to push back against what she describes as "rigidity and orthodoxy" in the newsroom. She is also better equipped to manage newsroom collaborations. 
"I regularly work with developers and coders, who sometimes give me really stretched-out timelines for our project," she said. "But my education has equipped me with technical skills, so I am able to communicate authoritatively, setting deadlines and enforcing quality standards."
While Batool is helping a large newsroom move into the digital age, her classmate Mashal Narejo charted her own path at a small, digital-native newsroom called Soch where she started working during the last semester of her degree. 
As a video producer, Narejo's primary role was to create short explanatory videos that broke down data collected through government sources or research reports — an interest she developed during her Capstone project for the master's program.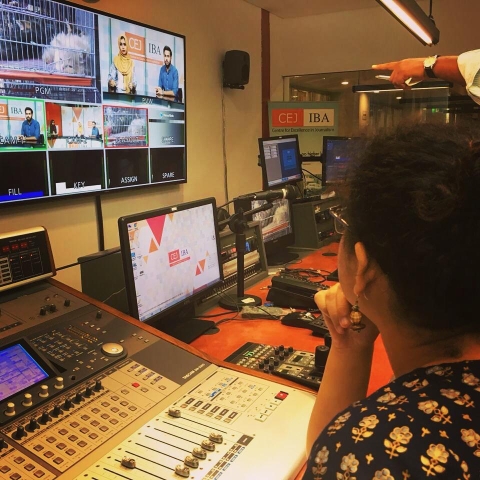 But, eager to use as many of her newly acquired skills as she could, Narejo would dive deeply into viewership data, tracking reach, likes, comments and demographics. 
"I was the only one doing this at Soch, so I ended up spearheading their content marketing plan, including how to monetize their YouTube and other social media pages," Narejo said. Currently, she is pursuing a two-year masters degree in digital marketing in Germany on a prestigious Erasmus Mundus Scholarship.  
The MSJ program is designed not only to train professional journalists such as Batool and Narejo on the latest digital skills but also to equip other professionals to transition into journalism full-time. 
Zulfiqar Ali Khan entered the master's program with the goal of transforming his volunteer-driven, citizen journalism initiative into a professional digital media platform. He started the site, PamirTimes.net, while working full-time at a community organization in northern Pakistan, an area considered too remote by most mainstream news outlets to treat as an important media market. 
"PamirTimes.net was born out of a passion to serve the local community," Khan said. "We were not satisfied by the coverage of local media, and the national media barely covers the region" because it's so small.
Before he started the MSJ program, the team behind PamirTimes.net was focused on written reporting, and they knew little about their audience or how to grow it. Using what Khan learned through the master's program about digital news reporting, video production and search engine optimization, his team created a video vertical and an analytics tracking system. They are now using data to drive their editorial decisions. 
"Before, we weren't doing anything in a professional way because we had barely any formal education or training," Khan said. "Now, we are applying international best practices to grow our platform."
Batool also sees media entrepreneurship in her future. She wants to create her own website to bring attention to underreported issues. "The MSJ has opened doors for me to opportunities I didn't know existed," Batool said. "I can report in the field, shoot and edit video, write content and develop code — skills I never had before. It's almost overwhelming! But what I know is that I want to be a journalist forever."
Interested in learning more? The degree program allows for both Fall and Spring entry. For more information, please visit: https://cej.iba.edu.pk/msj.php