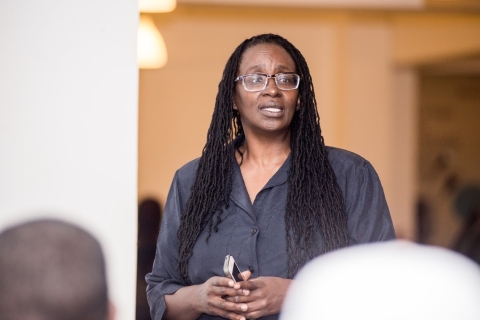 Kenyan journalist Catherine Gicheru, an ICFJ Knight Fellow who champions fact-checking, data and digital innovation to improve the quality of news coverage, has been named by New African magazine as one of the 100 Most Influential Africans of 2018.
Gicheru, a trail blazer in Kenyan journalism, was the first female news editor at the Nation Media Group and founding editor of The Star, a daily newspaper in Nairobi. As an ICFJ Knight Fellow since 2016, she has promoted fact-checking initiatives and data-driven journalism, especially to enhance stories about health and development, and is now the driving force behind a network of more than 100 female data journalists working in a half-dozen countries.
"I am pleased, honored and humbled for this recognition," said Gicheru. "I am encouraged and gratified that through the ICFJ Fellowship, l am able to continue sharing my life's experiences and skills through engaging, training, mentoring and working with journalists, particularly women journalists, to meet the challenges that newsrooms and journalists in Africa are facing."
Gicheru was among nine media professionals included in New African's annual list of 100 influential Africans. CNN international correspondent Nima Elbagir, who received ICFJ's Award for Excellence in International Reporting this year, also made this year's list. A Sudan-born journalist, she is based in London.
The New African list includes leaders in politics, business, arts, culture, media and more. This year, it included Ethiopia's progressive new prime minister, Abiy Ahmed, 2018 Nobel Peace Prize winner Dr. Denis Mukwege of DR Congo; and Botswana's 31-year old minister of investment, trade and industry, Bogolo Joy Kenewendo.
"The annual list has become an industry highlight, unveiling Africans who contributed in shaping the African narrative in the concluding year and also those envisaged to play a big role in the coming year, both on the continent and in the diaspora," New African wrote in its December issue, announcing the list. The magazine also said the list was gender balanced for the first time.
New African says it is Africa's best-selling magazine, distributed to more than 220,000 subscribers in more than 100 countries. It has been published since 1966.
As an ICFJ Knight Fellow, Gicheru serves as the Kenya country director of ICFJ's partner organization Code for Africa, the continent's largest federation of data journalism and civic innovation laboratories. She is also in charge of managing pan African communities such as the female data journalists' network. Her fellowship is funded by the Bill & Melinda Gates Foundation.