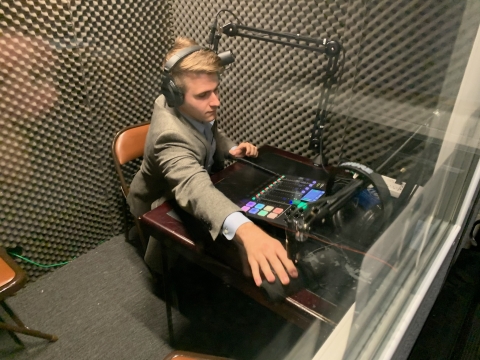 As the U.S. election season gears up, journalists at local news organizations should prepare for an onslaught of disinformation aimed at distorting polling results, says fact-checking expert Matt Riley.
In an interview with ICFJ, Riley said journalists should be on the lookout for doctored photos, fake videos and false claims in political ads. He advised journalists and editors without formal fact-checking experience to take time to familiarize themselves with easy-to-use verification tools and to also be as non-partisan as possible to prevent politicians from exploiting audience fears or distrust of the media.
Riley has spent the past year as an ICFJ TruthBuzz Fellow working with media in North Carolina to counter misinformation and disinformation. He says journalists covering the election for local markets should sharpen their detection skills to keep up with the latest forms of misinformation.
In monitoring trends in North Carolina, Riley said he noticed an uptick in doctored videos and photos, such as a viral tweet of a teachers' rally  in which pictures were photoshopped to make the crowds appear much bigger than they were. 
"When you examine the photo closely you can see that there were the same protesters, the same signs that had been cloned around the edge to make it seem like they were there," said Riley, who has worked with the Raleigh News & Observer, WRAL-TV and with PolitiFact to spread fact-checked information. After detecting the distortion, he offered journalists guidance on how to determine if the photo was doctored and how to prevent others from reposting it. He also co-wrote an article for the News & Observer explaining that the photo was fake.
Riley suggested that journalists use simple tools like TinEye search (an image verification tool) to identify fakes.
In addition to doctored photos, Riley predicts that "deepfakes," or videos made or altered using artificial intelligence to distort, will make their way into local news. "We aren't seeing [this technique being used on the local level] yet but because a lot of images are being used in this election season, we can probably expect this coming up."
Riley also expects to see an increase in spending on political election ads filled with outrageous claims, especially in contentious swing states. "We're seeing more claims that we need to fact-check from political ads," he said. "I think we're just going to be flooded with political ads in the upcoming election." North Carolina is expected to be more of a focal point for ads this year because of highly contentious races for president, governor, U.S. Senate and congressional seats.
Riley suggested that news organizations form alliances and partnerships with other news outlets to fact check information quicker and reach broader and more diverse audiences. If news outlets are coordinating and pooling resources, he said, this can help slow the spread of misinformation by getting fact checks out before misinformation goes viral on social media and does irreparable damage.   
He also encouraged local news outlets to experiment with different formats to see what their audience responds to when it comes to consuming fact-checks. For example, creating a simple and easy-to-digest newsletter rounding up popular fact-checks or creating a forum for audiences to talk about misinformation can be invaluable to helping to halt misinformation and rebuild trust among skeptical audiences.
ICFJ TruthBuzz Fellows have worked with media partners to find new ways to help verified facts reach the widest possible audience. Riley helped the fact-checking team at the News & Observer adopt more visual storytelling techniques to increase the reach and influence of their work. He also helped build news partnerships with local radio and TV stations to develop innovative audio and video content, so that they can engage audiences who aren't normally exposed to fact checking. He is currently partnering with WRAL, a local TV station in North Carolina, to customize PolitiFact's fact checking for TV.
The fellowships are supported by Craig Newmark Philanthropies.