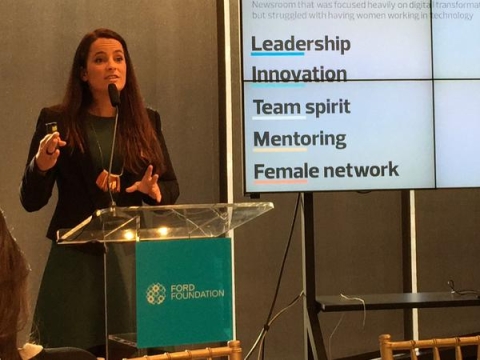 Former ICFJ Knight Fellow Mariana Santos was featured in PBS MediaShift's coverage of the Women Digital News Entrepreneurs Summit, "Cracking the Code." The event was hosted by the International Women's Media Foundation (IWMF) at the Ford Foundation in New York.
"'Cracking the Code'...was not your ordinary digital news event," MediaShift's Kimberly Selden said in her coverage of the conference. "The women who filled this space were ignited with powerful energy that transformed conversations into actions."
In her presentation at the conference, Santos "addressed a big question: 'Where are the women in digital news?'"
She also spoke about how she is working to introduce new skills and ideas to women in Latin America who are "really eager to learn, but they don't have access, they don't have money to come to the U.S. for conferences like this, so I try to bring the conference to them."
Other VIPs who participated in the event included Kara Swisher, co-executive editor of Re/code; Amy Webb, founder of Webb Media Group; Jessica Lessin, founder and editor-in-chief of The Information; and Maria Ressa, CEO and executive editor of Rappler.
As an ICFJ Knight Fellow, Santos founded Chicas Poderosas to empower women at the intersection of technology and media. She is currently a John S. Knight Journalism Fellow at Stanford University and the director of interactive and animation at Fusion.
Read the full PBS MediaShift article here.