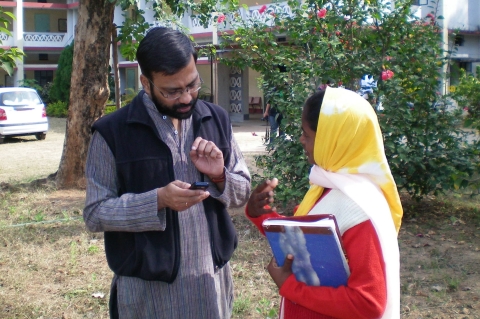 Himanshu Kumar runs a non-governmental organization in Chhattisgarh district, where Knight International Fellow Shubhranshu Choudhary has created a mobile phone news network called CGnet Swara. When Kumar heard from colleagues who described a brutal police attack on several villages, he filed a report using his cell phone. He alleged the police had killed two people and raped five women. He also challenged the mainstream media to go to the villages to view the situation for themselves.
Professional journalists working at CGnet Swara, which means Voice of Chhattisgarh, vetted his story and posted it—with a caveat. An editor's note said the service had received other similar reports and the network was working to independently confirm them.
After the report aired, The Times of India, The Hindu and other mainstream media sent reporters to the region. A Times of India reporter was refused entry to the village by armed government security agents. Even so, he still found people from the area who told of homes burned, people killed and women attacked. A Hindu correspondent who managed to reach the area found evidence of a brutal attack. The Hindu report – and others – pieced together eyewitness accounts of an assault by 350 heavily armed troops searching for a Maoist weapons factory. A new report by a 13-member fact-finding team confirmed the initial CGnet Swara report blaming the attacks on government forces.
The story that broke on CGnet Swara may bring some relief for villagers. Although police dispute accounts of the attacks, the government has set up a committee to investigate. One official told The Hindu that victims would be compensated for homes and property destroyed.
"The cellular platform we created is having wonderful impact in the Chhattisgarh region," said Choudhary. "The simple ability of tribal citizens to communicate with each other and the outside world gives them a powerful voice they've never had before. "