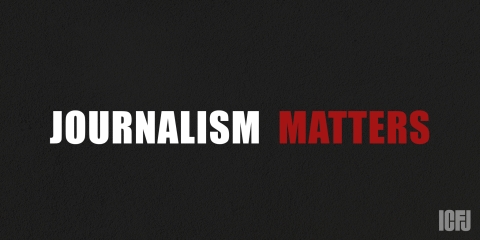 Reporters are not usually known as joiners. More often than not, they are loners, truth seekers, who do their homework, ask the hard questions and present the facts as they see them. But with our field under siege, we are witnessing a new era of journalism as reporters join forces to combat worldwide attacks against a free press. 
For journalists, physical and digital threats are, unfortunately, all too common these days. We used to think that journalists were in danger mainly in war zones. Now, they're often endangered at home just for doing their jobs. 
Think about it. How should journalists respond to the rise of nationalism and autocrats, who brand them as "enemies of the people"? What should reporters do when greeted by hostile crowds, egged on by politicians, at campaign rallies? How do newsrooms deal with the proliferation of truly fake news — misinformation and worse, disinformation, designed to confuse the public and in some cases subvert democracy? How should a journalist respond when targeted by trolls or viciously harassed online by a hostile interest group?
U.S. journalists are facing new threats
For the longest time, journalists in the U.S. thought they were immune from these forces. We should have been paying closer attention to what was happening overseas. The Latvians were complaining about Russian disinformation long before the 2016 U.S. election. Fifty-two journalists have been murdered over the past decade in Mexico alone. Members of our partner group, the Organized Crime and Corruption Reporting Project (OCCRP), have had extensive security training as politicians and crime bosses target them. 
I'm sorry to report that with the mass shooting last year of journalists at The Capital Gazette, a newspaper serving Annapolis, Maryland, security is also now a key concern for American journalists. I recently attended the Excellence in Journalism conference in San Antonio where armed guards stood on patrol. Some journalism groups are now weighing whether to put their address on business cards. Recently a journalist went to interview a citizen in Nevada, and that person refused to talk. "My government told me not to speak with you," he told a reporter.
In just two years, the number of U.S. newsrooms that secure their communications doubled to 82%, according to ICFJ's soon-to-be-released survey on the State of Technology in Global Newsrooms. In a recent survey of female journalists in the U.S and Canada, conducted for the Committee to Protect Journalists (CPJ), 85 percent said the field of journalism has become less safe in the past five years — and less than half had received security training. In a country where freedom of the press is enshrined in the First Amendment, this is truly worrying.
Journalists are understandably not advocates. We're not supposed to take sides (though there are many partisan voices these days, particularly on broadcast news and online). Some reporters in the U.S. don't even vote because they feel it shows partisanship. 
Journalists must now advocate for journalism
But we have reached a moment when journalists need to advocate — for journalism. A group of journalism groups will soon unfold an awareness campaign to highlight the fact that independent news media truly matter. CPJ and the Reporters Committee for Freedom of the Press say it's time to defend the people's right to know before it's too late. They will make the case that "American democracy is built on the foundation of empowered and informed people who help shape the future of this nation" and that  "any threat to our access to information is a threat to our freedom." 
In other words, journalists and journalism advocates are coming up with a new narrative to combat the one that brands reporters as enemies of the people. If the purveyors of the facts are diminished and a belief in a free press wanes, the public suffers. The goal is to educate the public that a free press is an  "indispensable and vital part of the American way of life." 
The International Center for Journalists celebrates its 35th anniversary this year. Our motto is: It Takes a Journalist. That's because journalists play an important role in tackling today's pressing problems — pointing out social inequities, dispelling myths during health crises, and making financial markets more transparent. If we want to genuinely solve these issues, we should be thinking about how to invest more in journalism — and not in curtailing it. 
We have honored reporters such as Maria Ressa of the Philippines, Joseph Poliszuk of Venezuela and Stevan Dojčinović of Serbia, who have exposed abuses by the powerful — and faced their retribution. As the risks for reporters get higher and higher, it's time to join forces and back a free press because nothing less than our democracies are at stake. 
This article is adapted from a speech delivered by ICFJ President Joyce Barnathan at an event in New York, sponsored by APCO Worldwide.