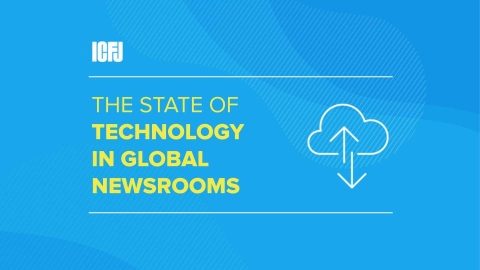 The State of Technology in Global Newsrooms is an ICFJ research initiative that yields unprecedented data from thousands of journalists on how news organizations are adapting to the digital age.
In 2019, ICFJ published our second survey, which updated and expanded on the findings of the first-ever global survey, released in 2017, on the adoption of new technologies in news media. View the full 2019 report and see highlights from the survey.
As part of this project, ICFJ conducts bi-annual surveys to gain insights on key trends in the industry at a time of rampant disinformation, crackdowns against the media, and disruptions in today's newsrooms due to new technologies. 
The survey results provide media professionals worldwide with practical data on tech-driven journalism, and answers to key questions such as: Which regions are the leaders and laggards in digital technology? What impact are digital tools having on journalism quality? How are news outlets engaging audiences? What structural changes are they undergoing to keep up with digital innovation?  
So far, journalists from as many as 149 countries have participated in 14 languages, pinpointing gaps and strengths and helping us understand how to make headway in everything from newsroom training to digital security.
The survey is administered in collaboration with Georgetown University's Communication, Culture, and Technology program.