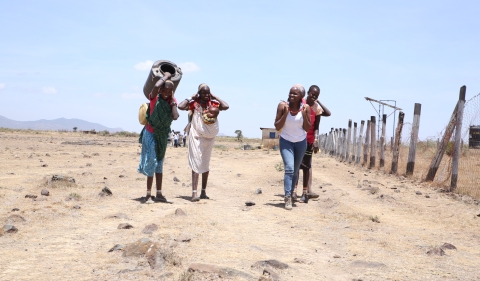 Verah Okeyo will never forget the sight of three women sharing one hospital bed; Josh Landis, the ravages of climate change-driven storms on coastal communities; Phil Cunningham, the haunted feeling of Tiananmen Square; and Ruth Olurounbi and Kelechukwu Iruoma, the frustration over cleanup delays of oil spills from decades ago.
All five journalists are recipients of the ICFJ Alumni Reporting Grants in partnership with Microsoft News, with an emphasis on immersive storytelling and data analysis. They recently completed their reporting and their stories now are being published around the world.
While they're from different countries – Okeyo from Kenya, Landis and Cunningham from the U.S., and Olurounbi and Iruoma from Nigeria – they all share the same dedication and passion for what they do.
"These are experienced journalists from ICFJ's global network who produce high-quality reporting on issues important to their communities," says Sharon Moshavi, ICFJ senior vice president. "This partnership supports our efforts to provide lifelong learning opportunities to our network. We're thrilled to see the stories the grantees produced using new tools and techniques."
Among those new tools: Microsoft training in Power BI, a powerful data analytics and visualization tool which is being used by journalists, including the Associated Press, to report data-driven stories; Video Indexer, a kind of AI edit booth; and Mixer, Microsoft's video streaming platform. Olurounbi and Iruoma of Nigeria also received Microsoft help with learning how to operate a drone for photography and video purposes.
Learn about grantees Phil Cunningham, Josh Landis, Verah Okeyo and Ruth Olurounbi and Kelechukwu Iruoma.
Suzanne Choney is a writer with Microsoft Stories.