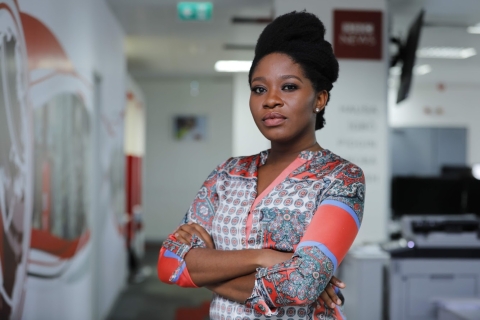 Kiki Mordi, who went undercover to reveal sexual harassment facing students at two universities in Nigeria and Ghana, has been named the 2020 winner of the Michael Elliott Award for Excellence in African Storytelling. A distinguished panel of judges selected the Nigerian journalist from among 184 applicants.  
Her winning documentary, Sex for Grades, which ran on BBC Africa Eye in October 2019, had tremendous impact. In the hour-long feature, Mordi focused on lecturers at the University of Lagos and the University of Ghana. Following her nine-month investigation, several lecturers were suspended. In the documentary, Mordi shares her own personal experience as a victim of sexual abuse. 
Sex for Grades has attracted worldwide attention and has helped trigger the #MeToo movement to Africa. The video has been viewed nearly six million times on YouTube. Based in Lagos, Mordi was nominated for a 2020 International Emmy, and she won the 2020 People Journalism Prize for Africa. 
The prestigious Elliott Award is given by the International Center for Journalists (ICFJ) in partnership with ONE and the Elliott family. It was established in 2016 in honor of Michael Elliott, an outstanding editor and philanthropist whose life was a testament to the power of storytelling to bear witness to and improve the human condition.  
The prize aims to advance the work of an emerging journalist covering Africa who strives to strengthen people's voices and improve their well-being. Previous winners include Kenyan journalists Mercy Juma and Dorcas Wangira, and Nigerian journalist Abubakar Ibrahim.  
"Mordi's work demonstrates extreme courage, tenacity, investigative ability and the patience needed to tell such a complex story with undeniable evidence," said Wangira, the 2019 Elliott Award winner and a member of this year's jury. "It is Africa's answer to #MeToo." 
Judges were also impressed with the work of Mahmoud Elwakea of Egypt, whose Made in Prison multimedia story centered on three generations of jihadists in Egyptian prisons. His commitment to unraveling a multilayered story and his dazzling visual presentation wowed the judges.  
"The Elliott family is proud to work with ICFJ and ONE, and our many generous supporters, to help advance the development of quality journalism in Africa," said  Emma Oxford,  Elliott's widow. "We congratulate this year's winner, Kiki Mordi, for her courageous and influential work, and finalist Mahmoud Elwakea for his creative multimedia story on an important topic. I am grateful to the staff of ICFJ, and to my fellow judges for their careful review of the many inspiring entries. I am especially grateful to Norman Pearlstine, executive editor of the Los Angeles Times], a longtime friend and mentor to my late husband, for his wise guidance of the selection process since the program's inception." 
Mordi will receive a cash prize and embark on a customized digital immersion program designed to further her professional development. She will share knowledge with journalists from top U.S. newsrooms and learn new skills from media mentors. 
The international panel that selected Mordi was chaired by Pearlstine, the outgoing executive editor of the Los Angeles Times, and included: 
Lionel Barber, former editor of the Financial Times and author of The Powerful and the Damned 
Joyce Barnathan, president, ICFJ 
Matthew Bishop, Former managing director, The Rockefeller Foundation 
Erik Charas, founding and managing director, Charas LDA, and member of ONE's Africa Policy Advisory Board 
Kate Critchley, executive director, communications and content, ONE 
Rik Kirkland, partner, Global Publishing, McKinsey & Company 
Emma Oxford, author, "At Least We Lived"  
Brigitte Perenyi, documentary producer and 2019 Award runner up (Ghana) 
Dorcas Wangira, 2019 Elliott Award winner and journalist 
Elliott served as a top editor at The Economist, Newsweek and Time before becoming CEO of ONE.  A passionate writer and editor with a gift for unraveling complex issues, he shone a light on global development issues and the people at their center. A longtime board member of ICFJ, Elliott championed great journalism as a tool for empowerment. As ONE's CEO, he lobbied to improve the lives of all Africans. Shortly before his untimely death in 2016, he spoke of his dream to establish an award that would bring together his belief in great journalism with his commitment to progress in Africa.