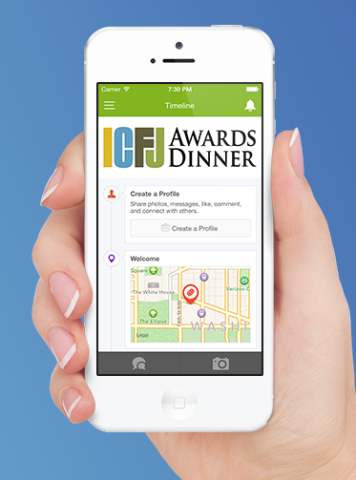 It's time to get ready for DC's premier international media event - the International Center for Journalists' Awards Dinner on Nov. 10. Download the ICFJ Awards Dinner app and find out everything you need to know.
You won't want to miss this inspiring event. CNN's Wolf Blitzer will host this year's Awards Dinner, where we'll honor outspoken Univision News anchor Jorge Ramos, and Pulitzer Prize-winning photojournalist Lynsey Addario. The 2015 ICFJ Knight International Journalism Awards will go to Cuban blogger Yoani Sánchez and Indian investigative reporter Priyanka Dubey.
The app is free to download, and you'll have access to:
Real-time info: Stay up to date with what's happening at the event, including VIP arrivals, the photo auction and more.
Bios: Get to know our top-flight speakers and award winners.
Schedule of events: Check out our schedule to see how the evening unfolds.
Table map: Want to know where our guests will be sitting? You'll have access to our seating plan.
Social media: Be part of the conversation on Twitter and get real-time updates about our newsmakers.
Photo Auction: Can't wait to see the great images up for bidding this year? Find them on the app in the Auction tab. And get a sneak peak of Addario's work for auction!
For more information on the ICFJ Awards Dinner, visit www.icfj.org/dinner.