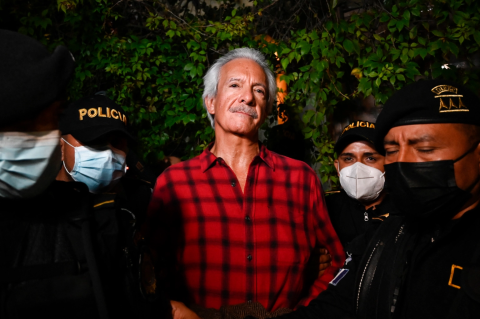 The arrest of renowned Guatemalan journalist and elPeriódico president José Rubén Zamora in late July ignited alarm among defenders of press freedom and democracy globally about Guatemala's continued autocratic backsliding, and what it means for independent media in the country.
A former ICFJ Knight International Journalism Award winner, Zamora has dedicated his career to unearthing corruption at the highest levels of power. 
In a recent ICFJ event held in partnership with the Committee to Protect Journalists, the John S. and James L. Knight Foundation and the Inter American Press Association, leading journalists from across Central America discussed Zamora's arrest, attacks on press freedom in Guatemala and the greater region, and what can be done to help. 
Taking part were Carlos Dada, co-founder and director of Salvadoran news site El Faro; Lucy Chay, deputy editor of elPeriódico; and José Zamora, chief communications and impact officer of Exile Content Studio, and José Rubén Zamora's son. Carmen Aristegui, director and host of Aristegui Noticias, moderated the panel. 
Here are key highlights:
Context surrounding José Rubén Zamora's case
Attacks on elPeriódico are unfortunately nothing new, said José Zamora: In the 26 years of elPeriódico's existence, the Guatemalan government across multiple administrations has lodged defamation campaigns against the outlet, demanded financial audits, and ordered commercial boycotts, prohibiting businesses from advertising with elPeriódico. The newsroom, too, has experienced threats, kidnappings and assassination attempts against its journalists. 
In this latest attack, the administration of Alejandro Gaimmattei built its case against José Rubén Zamora in just a few days, Dada noted, charging him with money laundering, blackmail and influence peddling. According to Zamora's lawyers, the trumped up charges rely on testimony from a single witness.
[Read more: Arrest of award-winning journalist puts Guatemalan press freedom on the line]
Persistent reporting
Journalists at elPeriódico have continued to report and publish their investigations, despite the current administration's crackdown on the free press. "Unfortunately, in Guatemala and in many countries in our region, the worst government is the one in power," said José Zamora.
"[Gaimmattei] has been intolerant to criticism. He has not given any statements, he only talks with media outlets that support his point of view, and he has given no interviews to elPeriódico," said Chay.
Dada underscored the vital role played by independent media to hold those in power to account. "A media outlet that does not question the power, the government, is not doing journalism but propaganda," he said. "Because otherwise, there's no balance of power."
Today, the elPeriódico team continues this critical work, too, despite the fact the government initially froze its bank accounts. "We haven't been paid for a month," Chay said. "And the team in the newsroom continues to reveal acts of corruption in the government."
[Read more: Dead end or bridge to the future? Understanding the impacts of journalism in authoritarian regimes]
Attacks on media in the region
"My father's case is not the only one that exists," said José Zamora. "This is just an example of what's going on in the country." 
Newsrooms across Latin America, in fact, have come increasingly under fire for their reporting, Dada added. "I think the objective is very clear," he said. [In] Brazil, Venezuela, Cuba — we see an attack against the press with the intention to stop an alternative narrative from the one shared by the government."
Aristegui pointed to Nicaragua as a country of particular concern. "Without a doubt, the whole region is facing this problem. We saw yesterday, for example, what happened against La Prensa in Nicaragua," she said, referring to how the government took over the opposition outlet's facilities to turn it into a "cultural center," a year after the newsroom's staff fled the country.
In Mexico, the recent assassination of journalist Fredid Román made him the 15th journalist killed in the country this year, Aristegui also highlighted.
The government's ultimate goal is to silence journalists, explained Dada: "Our investigations directly affect the monopoly they have over power."
Raising voices
As of the webinar, José Rubén Zamora is in stable condition, according to José Zamora. He has been writing from his cell, hoping to continue fighting and reporting.
"The very few times that we've been allowed to visit him, at the end of the visit he basically gave us a book, a lot of things that he's handwritten," José Zamora said.
Carlos Jornet, president of the Inter American Press Association's Committee on Freedom of the Press and Information, gave closing remarks at the event. He urged people to remain vocal about José Rubén Zamora's detention.
"Those of us who believe in the values of freedom and democracy, we have the obligation. We must be committed to raise our voices about the case of José Rubén Zamora," Jornet said. "We must be heard throughout the hemisphere and beyond."
---
Carlos Dada is this year's ICFJ Knight Trailblazer Award winner. Carmen Aristegui received the Knight International Journalism Award from ICFJ in 2016.