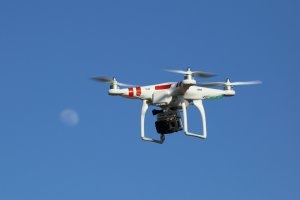 Kenyan digital journalist Dickens Onditi Olewe wants to help journalists across Africa improve their coverage from hard-to-reach places by giving them an "eye in the sky" aerial view.
But instead of expensive helicopters, he's interested in low-cost drone technology, which he says has the potential to revolutionize media access to frontline events and stories in remote areas.
Last year, Olewe founded AfricanSkyCAM, Africa's first drone journalism team, to use unmanned aerial vehicles (UAVs) and camera-equipped balloons to give journalists an added perspective in storytelling. Based in Nairobi, SkyCAM is in the process of expanding across the continent. "Africa is a massive continent with vast numbers of its one billion people still living in isolated rural areas," Olewe told IJNet. "Just think how useful drones can be here."
AfricanSkyCAM was one of 20 winners of the 2012 African News Innovation Challenge (ANIC). The competition encourages experimentation in digital technologies and supports the best innovations designed to strengthen African news organizations. The contest, modeled on the Knight News Challenge, was launched by the African Media Initiative under the leadership of ICFJ Knight International Journalism Fellow Justin Arenstein.
The concept for AfricanSkyCAM was born when Olewe, a journalist with The Star Newspaper in Nairobi, was working on a piece about flooding at Lake Nakuru National Park. He realized that an aerial view would give the story a much richer perspective. Read the complete post on IJNet.
Image courtesy of Flickr user Don McCullough under a Creative Commons license.
*
The International Journalists' Network, IJNet, keeps professional and citizen journalists up to date on the latest media innovations, online journalism resources, training opportunities and expert advice. ICFJ produces IJNet in seven languages: Arabic, Chinese, English, Persian, Portuguese, Russian and Spanish. IJNet is supported by donors including the John S. and James L. Knight Foundation.