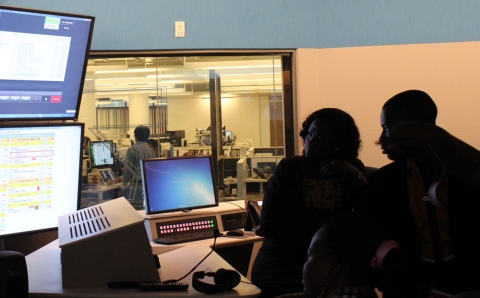 Back In The Newsroom is a fellowship program that brings five professors from historically black colleges and universities to spend a summer working in digitally advanced U.S. news organizations. This "internship" will help journalism educators see firsthand the new skills needed for students to succeed in today's newsrooms.
The fellows will update their digital skills, develop cutting-edge curricula and strengthen relations between these newsrooms and their schools. The program will help improve diversity at leading U.S. newsrooms by forging pipelines to promising students.
The fellows will spend the summer at The Los Angeles Times, CNBC, USA Today, The Wall Street Journal and The Washington Post, where they will focus on multimedia reporting, data journalism, social media and other methods for engaging audiences, skills that journalists need in today's newsrooms.
ICFJ will host a two-day, hands-on workshop at the start of the fellowship to develop strategies to get the most out of the program. At the conclusion, the fellows share their plans to revamp their curricula and approaches to teaching and maintain ties with newsrooms for their students.
Program Dates:
7/1/2014 - 7/31/2014