Patrons/Schirmherren
The Honorable Stéphane Dion
Canadian Ambassador to Germany
The Honorable Emily Haber 
German Ambassador to the United States of America
The Honorable Sabine Sparwasser
German Ambassador to Canada

North American Trustees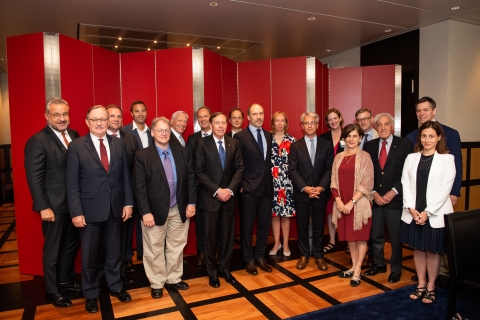 Joyce Barnathan
President, International Center for Journalists (ICFJ)
Ambassador (ret.) J.D. Bindenagel
Henry Kissinger Professor of Governance and International
Security, University of Bonn, Germany
Marcus W. Brauchli
Co-founder and Managing Partner, North Base Media 
(Chairman)
Elisabeth Bumiller
Washington Bureau Chief, The New York Times
Ambassador (ret.) Richard Burt
Senior Advisor, McLarty and Associates
(Honorary Chairman)
Dr. Martin Bussmann
Managing Director, Mannheim Holdings LLC
Elena Cherney
Editor, News Features and Special Projects, The Wall Street Journal
The Right Honourable Adrienne Clarkson
Former Governor General of Canada
Nikhil Deogun
CEO of the Americas, Brunswick Group
Tobias Dratt
Executive Vice President and Chief Financial Officer, BASF Corporation
Dr. Frank-Dieter Freiling
Director, Internationale Journalisten Programme (IJP), e.V.
(Burns President)
Prof. Dr. Ronald Frohne
President and CEO, GWFF USA, Inc.
Reto Gregori
Deputy Editor-in-Chief, Bloomberg News
Jacob Heilbrunn
Editor, The National Interest
Lieutenant General (ret.) Ben Hodges
Pershing Chair in Strategic Studies at the Center for European Policy Analysis
James F. Hoge, Jr.
Senior Advisor, Teneo Intelligence
(Honorary Chairman)
Barbara Humpton
Chief Executive Officer, Siemens USA
David Kamenetzky
Chief Executive Officer, Joh. A. Benckiser and Chairman, JAB Investors
The Honorable Dr. Henry A. Kissinger
Chairman, Kissinger Associates, Former U.S. Secretary of State
Bernhard Kuhnt
President and CEO, BMW of North America, LLC
Lars Leitner
Senior Vice President and Chief Strategy Officer, Turner Construction Company
The Honorable Frank E. Loy
Former Under Secretary of State for Global Affairs
(Honorary Chairman)
Jennifer McGuire
Former General Manager and Editor-in-Chief, CBC News and Centres
Gen. (ret.) David H. Petraeus
Member, KKR & Chairman, KKR Global Institute
John F. W. Rogers
Executive Vice President, Goldman, Sachs & Co.
Calvin Sims
President and CEO, The International House
Dr. Nina Smidt
Managing Director / Spokesperson, Siemens Stiftung
Richard Socher
Chief Scientist, Salesforce
Robert Steiner
Professor of Global Practice, Director, Fellowships in Global Journalism, Munk School of Global Affairs, University of Toronto
David Walmsley
Editor-in-Chief, The Globe and Mail
Stanford S. Warshawsky
Chairman, Bismarck Capital, LLC
(Vice Chairman)
Legal Advisor:
Phillip C. Zane
Adjunct Faculty, Dept. of Health Administration and Policy, George Mason University
German Trustees
Sven Afhüppe
Editor-in-Chief, Handelsblatt (Chairman)
Dorothee Bär
Member of Parliament, CDU/CSU, and State Minister for Digitalization, Chancellery
Dr. Thomas Bellut
Director-General, ZDF
Prof. Dr. Reinhard Bettzuege
Former German Ambassador
Nikolaus Blome
Former Deputy Editor-in-Chief, Bild
Johannes Boie
Editor-in-Chief, Welt am Sonntag
Dr. Volker Breid
Member of the Executive Board, Frankfurter Allgemeine Zeitung
Michael Bröcker
Editor-in-Chief, Media Pioneers
Stephan-Andreas Casdorff
Publisher, Der Tagesspiegel
Dr. Mathias Döpfner
CEO, Axel Springer SE
Jörg Eigendorf
Global Head Communications, Deutsche Bank
Dr. Wolfgang Fink
CEO, Goldman Sachs SE
Leonhard F. Fischer
Partner, LfiCapital
Dr. Rüdiger Frohn
Former State Secretary; Advisory Board, Mercator GmbH Foundation
Dr. Tessen von Heydebreck
Former Member of the Board, Deutsche Bank
(Honorary Chairman)
Stephan Holthoff-Pförtner
Co-Owner, Funke Media Group, and State Minister for Europe and Federal Affairs for Nordrhein-Westfalen
Alexander Graf Lambsdorff
Member of Parliament, FDP
Peter Limbourg
Director-General, Deutsche Welle
Gesine Lötzsch
Member of Parliament, Die Linke
Georg Löwisch
Deputy Editor-in-Chief, Die Zeit
Rob Meines
Meines & Partner, Den Haag
Claudia Roth
Vice-President of the Bundestag, Member of the Parliament, Die Gruenen
Michael Roth
Member of Parliament, SPD, and State Minister for Europe, Foreign Office
Patricia Schlesinger
Director-General, RBB
Dr. Gregor Peter Schmitz
Editor-in-Chief, Augsburger Allgemeine
Steffen Seibert
Parliamentary State Secretary, Government Spokesperson
Dr. Dominik Wichmann
Co-Founder and CEO, Looping Group
News about this program
August 16, 2017

August 11, 2017

August 2, 2017