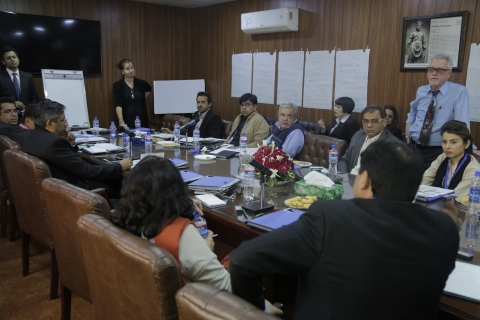 The International Center for Journalists (ICFJ) partnered with the University of the Punjab in Lahore on a new hands-on program designed for Pakistani media leaders.
Launched in early 2015, the series of three-day workshops target management issues. The sessions tackle decision-making, investigative journalism, journalists' safety, media law and digital news production. The first three workshops drew 60 Pakistani media executives from news outlets such as AAJ, ARY, Dawn, Dunya, Express and GEO. Two U.S. journalists and a Pakistani expert lead each session. So far, the program has covered management procedures for broadcast and print newsrooms and for investigative journalism projects.
The workshops use case studies, group projects and presentations to help media leaders develop strategies to improve best practices and management of personnel and news operations. The instructors also introduce new tools and resources including data and news apps.
The workshops are ICFJ's latest program for Pakistani journalists. Since 2011, ICFJ has administered the largest media exchange between U.S. and Pakistani journalists through the U.S.-Pakistan Professional Partnership for Journalism program. ICFJ also has partnered with the Institute of Business Administration (IBA) and Northwestern University's Medill School of Journalism to launch a Center for Excellence in Journalism (CEJ) in Karachi. The center offers innovative, hands-on courses for Pakistani journalists at all levels.
Program Dates:
1/1/2015 - 1/3/2015
Contact Info
Zainab Imam
Program Manager
International Center for Journalists
zimam@icfj.org