Middle East/ North Africa: Driving data-generated storytelling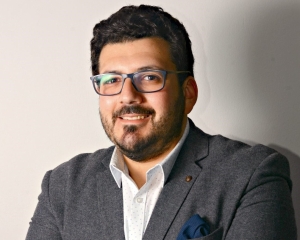 Cairo-based Knight Fellow Amr Eleraqi is leading a training and mentorship program that is expanding data-generated storytelling in the Middle East and North Africa (MENA) region. A data journalism pioneer, Eleraqi works in collaboration with the region's foremost investigative reporting network – the Arab Reporters for Investigative Journalism (ARIJ), an ICFJ partner.
Thanks to his leadership, Arab journalists are using data to bring greater depth to a wide range of critical issues, including gender discrimination and mismanagement of water resources in Egypt, contamination of drinking water in Palestine, prosecution of citizens in Lebanon for their social media posts, road safety in Jordan. He also wrote blog posts about the best use of data visualization techniques to cover COVID19.
For the training program, Eleraqi customized a data journalism course for Arab journalists, created specialized resources such as an Arabic glossary of data-related terms, and worked with ARIJ to administer an intensive, six-month course that transformed the reporting of participants and positioned them as leaders in their newsrooms. Eleraqi led the training and guided journalists in the production of stories that are being published by their news outlets and featured on the ARIJ website. Because of COVID-19, the entire program was virtual.
An Egyptian journalist and trainer, Eleraqi was the driving force behind the launch of Arab Data Journalists' Network, an online resource in Arabic, English and French that features training materials, tools and techniques for data-generated storytelling.
In 2012, he founded InfoTimes, a website specializing in data journalism. Eleraqi serves as executive editor of InfoTimes, which has won multiple awards including the 2018 GEN award for best small newsroom.
He is the author of two books on data journalisms, including "Data Journalism Fundamentals," which was published in 2016 and is the first book on the topic in Arabic. Eleraqi is also a journalism instructor at the American University in Cairo.