The International Center for Journalists' flagship, the ICFJ Knight Fellowships, is an unparalleled program with a mission to create a culture of news innovation and experimentation worldwide. The goal: to seed new ideas and services that deepen coverage, expand access to information and engage citizens. The Fellowships ultimately aim to improve people's lives.
Over the years, our ICFJ Knight Fellows have achieved a tremendous impact. Some examples: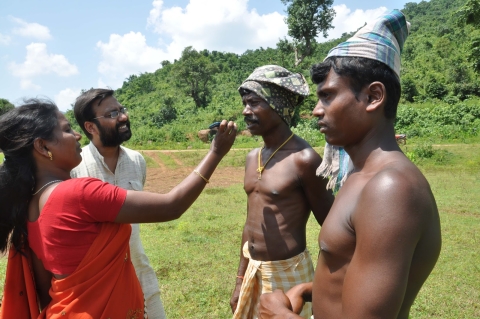 In Peru, 40 government officials, including the country's Minister of Health, resigned their posts after reporters working with a Knight Fellow revealed that more than 400 influential people were secretly given COVID-19 vaccinations.
The Kenyan government took counterfeit malaria medications off the market after a report by a journalist working with a Knight Fellow exposed that they were fakes.
Nigerian newsrooms trained by a Knight Fellow have produced fact checks debunking false and dangerous rumors of cures for COVID-19, stroke, infertility and other diseases and ailments.
The Indian government launched an investigation into police abuse after a mobile news site, launched by a Knight Fellow, reported on a village raid in which officers burned homes, raped women, and killed two people.
As technology transforms the news media, Fellows have helped newsrooms produce thousands of stories focusing on data-driven, multimedia projects that engage audiences. The John S. and James L. Knight Foundation has supported the Fellowships since 1994. The Bill & Melinda Gates Foundation, Luminate and the United States Agency for International Development also generously back this program.
In recent years, our Fellows have:
Worked with more than 800 independent news sites in Latin America, Spain and the U.S. Hispanic market to promote media sustainability and financial health in the COVID-19 era.
Launched a multi-country network of African women journalists who are producing data-driven health and economic stories and have shed light on marginalized groups who are suffering the worst impacts of the COVID-19 pandemic.
Designed a tool that connects journalists in Brazil with scientists who are active thought leaders on social media and makes it easier for journalists to follow them.
Brought together fact-checkers at major newsrooms and social media influencers in Nigeria to fight the spread of misinformation and disinformation on popular social media platforms.
Made hundreds of journalists and leading newsrooms safer, especially along the dangerous U.S.-Mexican border.
In addition, ICFJ Knight Fellows have become global thought leaders on how to use technology to improve news coverage. They are routinely invited to global journalism conferences as featured speakers. Their work also appears regularly on the Knight International Media Innovators page on the International Journalists Network (IJNet) website, which reaches at least 180,000 media professionals monthly.
Because ICFJ selects top-notch professionals for the program, their work continues to transform the field long after their Fellowships have ended. Some past Fellows now have teaching positions at major U.S. and international universities, where they are training a new generation in digital media innovation. One Fellow continues to hold the largest digital journalism conference in Latin America, while another created the leading investigative journalism group in the former Soviet bloc. Another spearheaded a mobile news project that continues to change the lives of marginalized people in rural India.