The International Center for Journalists' flagship, the ICFJ Knight Fellowships, is an unparalleled program with a mission to create a culture of news innovation and experimentation worldwide. The goal: to seed new ideas and services that deepen coverage, expand access to information and engage citizens. The Fellowships ultimately aim to improve people's lives.
Over the years, our ICFJ Knight Fellows have achieved tremendous impact. Some examples: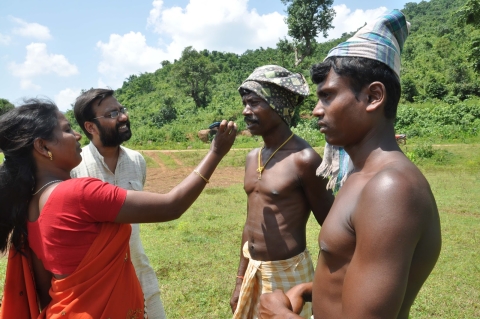 The Kenyan government took counterfeit malaria medications off the market after a report by a journalist working with a Knight Fellow exposed that they were fakes.
The Indian government launched an investigation into police abuse after a mobile news site, launched by a Knight Fellow, reported on a village raid in which officers burned homes, raped women and killed two people.
The Argentine government cancelled a $65 million contract to establish an electronic ticketing system for public transportation after a Knight Fellow helped reporters at La Nacion reveal massive corruption and irregularities.
As technology transforms the news media, Fellows have helped newsrooms produce more than 700 stories focusing on data-driven, multimedia projects that engage audiences. The John S. and James L. Knight Foundation has supported the Fellowships since 1994. The Bill & Melinda Gates Foundation and Google News Lab also generously back this program.
In 2017, ICFJ supported 22 Fellows. During that year, they:
Initiated 40 significant organizational changes to better position newsrooms for the digital age. Major news organizations from Pakistan to Tanzania have created their first innovation teams and data desks, allowing them to regularly produce data-driven stories that engage audiences. 
Spurred the launch of five news startups and 17 experimental media projects, and helped eight more improve their sustainability. These startups are creating independent sources of news in Latin American countries where the government has co-opted traditional media. In Africa, a $1 million news challenge helped traditional media make their first use of bots and drones.
Led the creation or adoption of at least 63 digital tools. In India alone, our Fellows built a suite of apps for interactive timelines, quizzes and data dashboards that helped media to engage audiences in new ways and doubled Facebook and Twitter interactions for the data-driven news site IndiaSpend. You can find a selection of Fellows' tools at tools.ijnet.org.
Pioneered cutting-edge storytelling in 45 major news outlets from India to Nigeria. GEO News, a leading broadcaster, produced Pakistan's first graphic-novel story, for example, covering the country's burgeoning methamphetamine addiction crisis. 
Shed light on gender issues and empowered women journalists as change agents. Indian Express's digital team produced its first sustained series on how gender affects business, education and other important societal issues that shape the country. Teams of women data journalists are now creating dozens of long-form, multimedia stories on vital issues such as maternal health and water safety in Nigeria and Kenya.
Made hundreds of journalists and leading newsrooms safer, especially along the dangerous U.S.-Mexican border. A prominent Mexican newspaper created their first digital security protocols and plans. Two journalists have also credited a Knight Fellow's training with saving their lives.
Shared insights in more than 40 U.S. newsrooms. At least 14 news organizations, including the New York Times, have produced cutting-edge coverage and adopted new approaches, and five university journalism programs revamped their curricula, thanks to our Fellows. A New Jersey news network reorganized its newsroom based on an Indian Knight Fellow's model, and Fellows have helped Texas media put in place their first digital security policies and launch their first 360-video coverage.
In addition, ICFJ Knight Fellows have become global thought leaders on how to use technology to improve news coverage. They are routinely invited to global journalism conferences as featured speakers. Their work also appears regularly on the Knight International Media Innovators page on the International Journalists Network (IJNet) website, which reaches at least 165,000 media professionals monthly.
Because ICFJ selects top-notch professionals for the program, their work continues to transform the field long after their Fellowships have ended. Some past Fellows now have teaching positions at major U.S. and international universities, where they are training a new generation in digital media innovation. One Fellow continues to hold the largest digital journalism conference in Latin America, while another created the leading investigative journalism group in the former Soviet bloc. Another spearheaded a mobile news project that continues to change the lives of marginalized people in rural India.