The International Center for Journalists' flagship program is the ICFJ Knight Fellowships, an unparalleled initiative with a mission to create a culture of news innovation and experimentation worldwide. The goal: to seed new ideas and services that deepen coverage, expand news delivery, engage citizens in the editorial process and ultimately improve people's lives.
Two things that set the ICFJ Knight Fellowships apart:
We support a truly global network of digital entrepreneurs and visionaries with a renowned reputation for transforming journalism around the world and producing lasting, tangible change
Our model makes it possible to work with a variety of partners, including newsrooms, funders, technology companies, universities and other organizations to bring each unique value and achieve our mission
A key to our model is that we fund Fellows to collaborate with partners that pool their own resources to achieve our mutual goals. As a result, we depend on partnership for success. It also means that we can be flexible and take advantage of opportunity during the course of a Fellowship and our program, where our competition often has to lock in partners before a program begins and have little flexibility to adjust course later.
We offer a variety of opportunities for partners:
For newsrooms that want to transform how they use innovation to advance their reporting and bottom line, our Fellows can act as key strategists, catalysts and mentors to guide you in that process, working at all levels of your organization. They can help solved organizational bottlenecks that impede experimentation, introduce digital formats that deepen coverage through longform storytelling, improve thematic coverage on issues like health and development, get journalists started on the latest digital tools, provide intensive hands-on training, recruit top digital talent for newsroom leadership positions, set up new teams and workflows, and craft audience engagement and business growth strategies. 
While our Fellows typically focus their work on regions outside of the United States and Western Europe, we are particularly interested in exploring ways to bring Fellows' innovation back to U.S. journalists and newsrooms.
For tech companies that want to expand the reach of their digital tools and explore opportunities for developing new ones, our Fellows can experiment with their tools in newsrooms and offer feedback on what works. Fellows can collaborate on tool development and share insights about those they've developed with technologists. They can also co-host branded community events that engage journalists. 
For funders that want to spark news innovation and societal change through journalism, ICFJ can accept funding to support additional Fellows, surface media companies primed for investment and manage funds for news innovation projects supported by our Fellows.
For universities that want to improve their curriculum to empower the next generation of journalists and upgrade the skills of the current generation, our Fellows regularly produce learning resources and innovative models for journalism that could make for great case studies generated by students and researchers.
Partner support can include: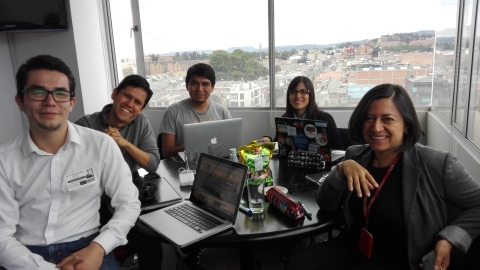 Funding for project development, meetups/workshops
Facilities, equipment and/or hosting of online/mobile applications
Office/meeting/event space
Staff, experts or network members (strategic, technical, administrative, training and/or logistical)
Commitment to continuing the work of the Fellowship after its completion
How to partner with us:
We look forward to the possibility of working with you and welcome all inquiries that could be a great match for our mission and bring incredible value to yours.