Eastern Europe: Promoting Open-Source Investigations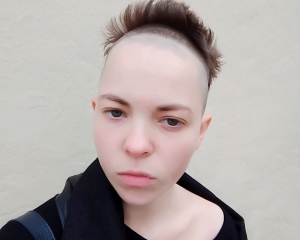 In Europe and Central Asia, ICFJ Knight Fellow Dada Lyndell is strengthening journalists' ability to cover crime and corruption through the use of open-source data. Embedded with the Organized Crime and Corruption Reporting Project (OCCRP), an ICFJ partner based in Sarajevo, Lyndell is introducing journalists to tools and techniques for tracking cocaine smuggling, exposing fraudulent investment schemes, investigating questionable government spending and more.
A native of Russia, Lyndell is an experienced trainer, specializing in Open Source Intelligence (OSINT) methods, with a special focus on flight and ship tracking, satellite imagery and other publicly sourced data resources.
Working with more than 60 journalists in 17 OCCRP regional centers in 2020, Lyndell helped research and guide data-driven reporting for investigations, including a major exposé of get-rich schemes designed to bilk Bitcoin investors, and a 10-month probe into spending sprees by European countries rushing to obtain supplies to fight the novel coronavirus. For the latter story, OCCRP worked with media partners in 37 countries to collect data from 37,800 COVID-19 related tenders and contracts worth $24.9 billion. The contracts covered key goods such as personal protective equipment, ventilators and tests, and reflected wide variations in price as well as massive spending on controversial drugs promoted as miracle cures, like hydroxychloroquine.
An award-winning data specialist, Lyndell worked as a journalist in Russia prior to the Knight Fellowship, covering corruption, health, economics and business activities for one of Russia's largest independent newsrooms, the RBK Media Group. Lyndell is regularly invited to share knowledge with international audiences at events such as DataHarvest, an annual European investigative journalism conference.