Nigeria: Forging partnerships and strategies to spread truth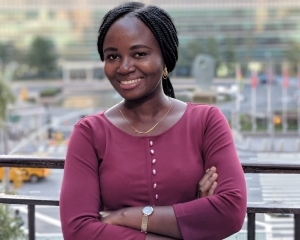 ICFJ Knight Fellow Hannah Ajakaiye is building collaborations among journalists, fact checkers and social media influencers to combat misinformation about health and other critical issues in Nigeria.
With more than 33 million monthly Facebook users and 25 million monthly Twitter users, Africa's most populous country is known for a lively and free-wheeling social media climate replete with rumors and false information.
Ajakaiye's project uses Nigerian celebrities, humor and eye-catching videos and graphics to attract attention on social media, often in the pidgin dialect spoken by millions of Nigerians. These techniques, such as videos with the popular Aproko doctor ("gossip doctor" in pidgin), make the truth as compelling as fake news that can spread like wildfire on social media platforms.
Dibia Okirikiri and spiritual fortification from COVID19. #FactsMatterNG pic.twitter.com/1Z9DJhWbrF

— Dr. Chinonso Egemba (@aproko_doctor) February 19, 2021
Popular fact checks have:
Ajakaiye's Knight Fellowship brings together influencers such as popular actress Kate Henshaw and Minister of Youth and Sports Sunday Dare to amplify fact checks and other content aimed at spreading truth. Dare is a former journalist and was himself an ICFJ Knight Fellow who pioneered social media research in Nigeria. In August 2020, he helped launch Ajakaiye's project with a keynote speech that challenged mainstream journalists to expand their gatekeeper role to fight fake news.
Other influencers who have signed on to help spread accurate information and fight misinformation include two medical doctors, a leading investigative journalist and a human rights lawyer – all of whom have large, loyal followings on Twitter and Instagram. Under Ajakaiye's guidance, they work with four prominent media partners to amplify fact checks produced by the news organizations: Africa Check, Dubawa, TheCable and the International Centre for Investigative Reporting (ICIR).
Ajakaiye also has worked with the four newsroom partners to strengthen their fact-checking desks, leading training sessions on the production of social media videos and marketing techniques to extend the reach of fact checks.
In the first six months of the project, the news partners produced at least 71 fact checks and 73 social media videos, which together reached more than half a million Nigerians.
A native of Nigeria, Ajakaiye is an award-winning journalist and data enthusiast with a passion for development and social justice issues. Her Knight fellowship builds on her previous work as an ICFJ TruthBuzz Fellow in 2019, when she worked with Africa Check, an independent fact-checking organization, on a program to make truth spread faster than fake news. She also collaborated with reporters from Daily Trust, a prominent newspaper with wide reach in northern Nigeria.
As a journalist, Ajakaiye worked for The Nation, Nigeria's widest circulating newspaper. She holds a master's degree from the University of Sussex in the United Kingdom, where she focused on Media Practice for Development and Social Change.