Elevate, ICFJ's news business hub, launched in 2022 with a cohort of media leaders from 17 news organizations operating in every region of the world. Over a period of eight months, global business executives trained and coached participants to help them think differently about the challenges they face in building stronger, more sustainable news operations. The experience was transformative for many.
We were wired to spend money, not to make money.
         Dayo Aiyetan, Executive Director of the International Centre for Investigative Reporting (Nigeria)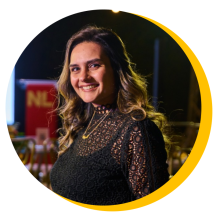 We figured out that our product is not our content. Our audience is our product!
         Namees Arnous, Founder and CEO of E7kky (Egypt)
---
Impact Stories
New product development

After participating in an ICFJ program in 2010, Bruno Garcez created Agência Mural (Brazil), a nonprofit news organization that publishes stories from underprivileged communities to break stereotypes. In 2022, Elevate helped them realize that a challenge they were facing – other media outlets recruiting the young journalists they had trained on the job – could also be a source of revenue. They are now launching a local journalism program called Clube Mural, which aims to train 30 local journalists a year.
Six-figure funding

During Elevate mentoring sessions, OrderPaper (Nigeria) created a new concept note project called VOTER (Validating the Office of The Electorate on Representation), a series of citizen awareness and engagement activities related to voter education. The product has since received six-figure funding from the United States Agency for International Development (USAID) under the Strengthening Civic Advocacy and Local Engagement (SCALE) Project by Palladium.
Discontinuing products

While working with a mentor, El Pitazo (Venezuela) discovered they had an excess of products and services and did not understand which were profitable and which were losses. They also realized that the need for marketing and sales had grown yet the team remained the same size. It was a tough decision, but they discontinued some products and rearranged the team.
Technology at the service of content

Technext (Nigeria) worked on their SEO and tech strategy, which led to a bounce rate reduction from 87% to 62% and a growth in monthly unique users from 65,000 to more than 100,000.
Understanding audience needs 

Understand your audience's needs and create products that can solve these problems. This is the lesson Foco (Panamá) learned during the program. After listening to their audience's needs, the organization increased their newsletter open rate to 80%. In addition, Foco launched two paid newsletters focused on new audience interests the team identified.
Network of like-minded people and new opportunities
Elevate has an active Slack channel where participants can interact directly to create new opportunities, forge collaborations and exchange ideas and solutions.
Collaboration

Voxeurop (France) and Datasketch (Colombia) partnered during the program and jointly applied for the Stars4Media grant. They were among the 14 winners for the 2023 edition of the program. They will receive funding and coaching to transform their newsrooms' editorial and news coverage processes. In phase one, they will receive up to $24,000.  
---
Elevate 2022 in numbers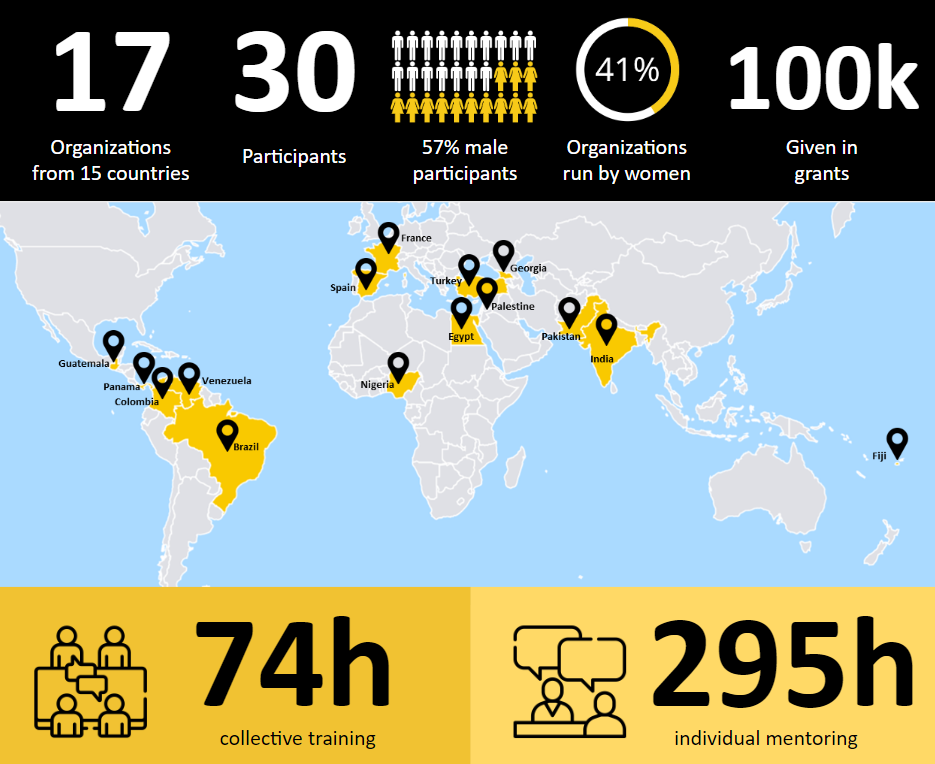 ---
Organization profiles
A wide and diverse group of media leaders from all regions of the world took part in Elevate. The group included fact-checkers, a women's magazine, local news outlets, a video-based news network and more. Meet the first cohort here.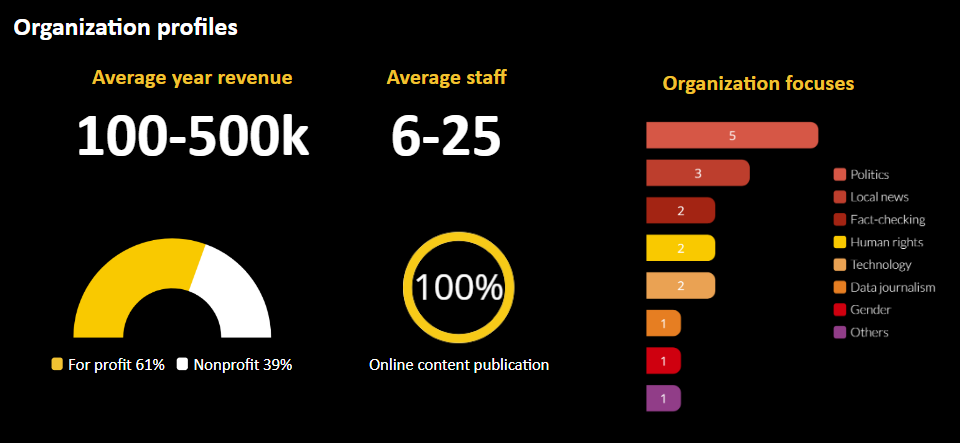 ---
Elevate's partners

We had the privilege to work with great partners and mentors.
Babson College:
Babson College is the no. 1 institution for entrepreneurship according to several rankings. Through the sessions with Babson College, Elevate participants learned to link day-to-day business decisions to their finances and practice new techniques to be more innovative and creative in generating revenue and value for their businesses. The program sessions provided actionable ways to drive growth opportunities by setting objectives as well helping to manage and build journalistic brands through marketing.
Jeremy Caplan:
Director of training and learning at CUNY's Newmark Graduate School of Journalism, Caplan met with participants weekly during the knowledge sprint phase to help them apply the skills taught by Babson College in their newsrooms.
Media Development Investment Fund (MDIF):
MDIF conducted "problem assessment" interviews with each of the organizations and provided detailed reports about each organization's business situation. These reports were used to match mentors with participants.
Microsoft:
Microsoft trained participants how to better use spreadsheets to gather, keep and understand data. They learned about conditioning formulas, pivoting tables and generating business charts. The goal was to help the participants understand the importance of using data to make smart business decisions.
Philliber Research & Evaluation:
A group with more than 35 years of experience in monitoring and evaluation, Philliber Research & Evaluation ran all the surveys and events to capture and measure the impact of the program on the participating organizations.
---
Elevate 2023
To kick off Elevate 2023, anyone seeking to level up their business skills will have the opportunity to attend four sessions covering the basics of media entrepreneurship. Held each Tuesday in March, Elevate mentors will give participants a taste of the Elevate experience. Held in partnership with the Pamela Howard Forum on Global Crisis Reporting, these 1.5-hour sessions will focus on the foundations of business. The webinars will start at 9 am EST and be held in English. Following the Pre-Elevate sessions, ICFJ will open a formal application for those participants who are interested in joining Elevate's 2023 cohort.
 
Learn more about Elevate
Learn more