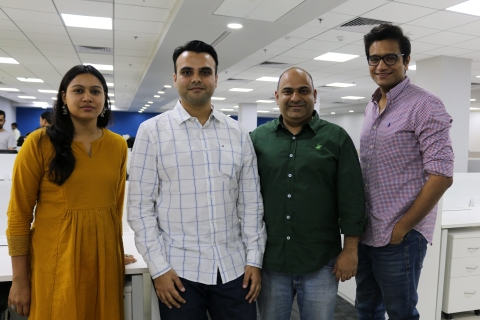 How do you use the latest digital technologies to improve storytelling on health, gender and development issues? Just ask ICFJ's four new Knight Fellows, who are leading the charge. They will offer their storytelling expertise, multimedia assistance and data skills to help journalists at two of the country's most widely read news organizations. Their goal: To reinvent coverage of these critical issues and drive policymakers and citizens to make better and healthier decisions.
The four new Fellows will also focus on training journalists to make their stories more interactive, data-driven and compelling. They plan to lead newsroom training sessions to showcase the latest digital tools and multimedia techniques. They are also creating replicable open-source and cost-effective tools that will help their media partners better reach a growing mobile audience.
The ICFJ Knight Fellows are:
The group works closely with ICFJ Google Fellow Irshad Daftari. He is helping Indian media enhance their storytelling, content distribution and audience engagement, with the support of Google News Lab. Lead ICFJ Knight Fellow Nasr ul Hadi coordinates the new Fellows' work.
The new Fellows shared why they believe now is the time for media innovation around health, gender and development issues in India.
Why is it important to improve media coverage of these issues in India?
Bajpai: As news consumption increasingly becomes digital, and entertainment and politics emerge as key traffic drivers, newsrooms tend to deploy fewer resources on issues such as health and development. The way around this is to make storytelling on these topics more interesting and engaging so audiences get excited about reading these stories.
Venkatesh: I'd say that health journalism in India can be placed into four buckets: policy, access, prevention and cure. The Indian media does an abysmal job in all these areas. At a very basic level, people need to hear what the government is planning for them, and how they're planning to spend their tax rupees. Currently, there's almost zero discussion in the mainstream media about potential policy impacts of health initiatives. For example, how is the proposed National Health Policy going to help people improve the quality of their lives?
Next, a large part of health coverage in the media focuses on the "sexy," such as wellness, beauty, and so on. But even here, there's very little original reportage. Today, you might read in the newspaper in a 200-word article that butter is actually good for your heart, but tomorrow, in the same newspaper, you might read the opposite. Such pieces are thin on actual evidence and high on cherry-picked data.
What new tools or skills will you show journalists at your media partner? How will they improve the quality of journalism?
Bajpai: The two defining new skills in modern newsrooms are video and data journalism. Facebook Live has become a key engagement driver on social, and journalists are increasingly asked to go live while reporting on the ground. Basic understanding of video shooting and editing (mostly on mobile) is critical for every journalist. Data storytelling is also beginning to gain prominence in Indian newsrooms, and the concept of editorial engineers has become a reality. Journalists must have basic data literacy to start collaborating with dedicated data teams in their newsrooms.
Parrkih: As an ICFJ Knight Fellow, I hope to create multiple digital, visual story templates that journalists can reuse to make reporting on health and development issues more compelling and fun. An example would be to use satellite imagery to report on differences in quality of life or availability of essential services in inner-city neighbourhoods that are segregated by economic class or religion or caste.
Why is it important for journalists to work with data experts, multimedia specialists and technologists? How does this team-based structure lead to quality storytelling and engagement with citizens?
Parrikh: Data-literate journalists can write stories that help readers separate fact from opinion. This can help repair the general mistrust that Indians have against media.
Dixit: By 2021, 20- to 35-year-olds will account for 64 percent of India's population. While there is only 11 percent Internet penetration in India, smartphones have changed the game altogether. There are now 684 million unique mobile users in India, through which more than 370 million can access the internet. According to the most recent Internet Trends report, India is racking up an astonishing 40 percent year-over-year growth rate in online access (at a time when the rest of the world is flattening at 7 to 9 percent). Because of this, it is important to integrate all aspects of technology to make journalism better, useful and impactful.
Bajpai: Our content creation and distribution strategy is mobile first. ... Right from content to UI/UX to distribution - all new products will be designed for mobile devices and adapted for desktop. The bulk of our video work with partners will also be focused on mobile consumption. We will explore vertical video and experiment with 360° videos on mobile phones. Consumption patterns on mobile devices will drive the content and run time of our videos.