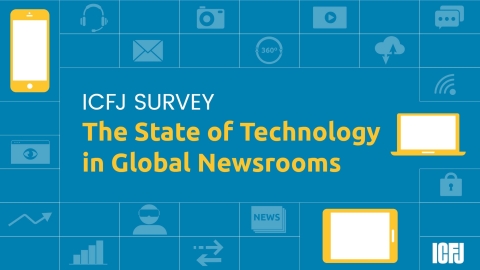 The State of Technology in Global Newsrooms is the first-ever global study on the adoption of new technologies in the news media.  While the disruptions in today's newsrooms have been widely examined, the study focused on a missing link: how journalists worldwide are embracing new technologies.  

As we face a global media landscape rife with uncertainty and excitement, a comprehensive understanding of this new era and what it means for journalists has never been more urgent. ICFJ's study sought to answer a critical question: Are journalists ready for the digital revolution? Despite great strides in leveraging new technologies, we conclude that the answers is no. 

The study provides media professionals worldwide with practical data on tech-driven journalism, and allows them to answer key questions such as: Which regions are the leaders and laggards in digital technology?  How are journalists harnessing social media to tell stories? What tools are they using to engage audiences? What structural changes are newsrooms undergoing to keep up with digital innovation?  
View the full report, and see highlights on Medium. 
Visit our Visualizer to explore the survey data and compare results across regions. 
About the Study 
Storyful, Google News Lab and SurveyMonkey supported the study. Georgetown University's Communication, Culture, and Technology program helped to administer and analyze the survey, which was distributed via SurveyMonkey. Results were collected across eight regions: Eurasia/former USSR, Europe, Latin America, Middle East/North Africa, North America, sub-Saharan Africa, South Asia, and East/Southeast Asia. 

The survey was administered in the following languages: English, Spanish, Portuguese, Russian, Arabic, Turkish, Korean, Bahasa (Indonesian), Japanese, Chinese, French and German.
Contact Info
Fatima Bahja
Manager, New Initiatives
fbahja@icfj.org