This year, ICFJ has awarded small grants to  10 media project proposals presented by former Latin American Fellows. This fund is part of the ECA Alumni Engagement grant and it is only open to alumni of the "A Digital Path to Entrepreneurship and Innovation for Latin America" program.  For the next five months, these grant recipients will continue to share and develop ideas, develop new products and methods that have great potential to advance stability and prosperity in the Latin American media field.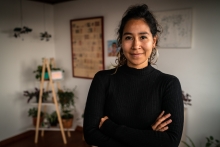 Angelica Maria Cuevas Guarnizo
Country: Colombia
Colombian communications and journalism strategist with nine years of experience conceptualizing and executing transmedia communications projects on human rights. Currently Professor of Journalistic Entrepreneurship at Javeriana University in Bogotá, Colombia.  Angélica has worked as Communications Coordinator of the Center for the Study of Law, Justice and Society – Dejusticia, where she transformed the press office into a multimedia innovation lab and created Amphibian Tales, the first podcast for narrative journalism created by a civil society organization in Colombia. In 2019, the project received recognition from the jury of the Simón Bolivar National Journalism Award for the radio chronicle "The Invisible Massacre." She has worked at and collaborated with news outlets like El Espectador, Vice News, and Colombia 2020.She was a 2019 Fellow of the International Center for Journalists' (ICFJ) innovative journalism program for Latin America and recipient of the 2014 Colombian Environmental Amway Journalism Award.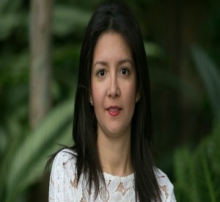 Karen Paola De La Hoz Rodriguez 
Country: Colombia 
Head of communications and digital strategy at Gabo Foundation, a center for journalism excellence and ethics for Spanish and Portuguese speaking journalists, and for Gabo Festival, the most important meeting of Spanish speaking journalism. Karen teaches a 'New technologies' course at University of Cartagena. She is interested in audience engagement, human-technology interaction and application of artificial intelligence in journalism. She has a master's degree in Multimedia Journalism from University of the Basque Country, in Bilbao, Spain. Sites: Noches de Media and BuscoBeca.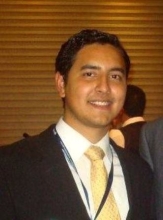 Cristhian Barragan Falla
Country: Colombia
Cristhian is a freelance investigative journalist in Colombia. Since 2006, he has worked on different projects and provided trainings on digital tools to local and community media outlets in Latin America. He has also been general editor of El Pueblo newspaper in Cali, editor of WebNoticias and general director of Agencia Gescom, a digital marketing agency. In 2015, he founded LabMedia.org, an online community of entrepreneur journalists to share content, tools and resources about entrepreneurial journalism. He is currently the founder and general director of dateame.co, a directory of digital media outlets in Latin America, and he is director of franchises in WebNoticias.co, a local media network. In 2018 he was a Professional Fellow with ICFJ in The Dallas Morning News, he won the Alfonso Bonilla Aragón award in digital journalism and he was coauthor of the book "La Babel Digital" about entrepreneurial journalism. In 2019 he started the project "Mediatour", a tour of entrepreneurship workshops for local and community journalists.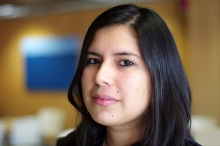 Daniela Aguilar
Country: Ecuador
 Daniela is an Ecuadorian journalist specialized in investigation and data. She is co-founder of the independent journalism site La Historia, where she published: Chevron's case: Story of the forgotten, which was awarded the Lorenzo Natali Media Prize 2015 by the European Commission. Daniela is a contributor to the online magazine Mongabay Latam, where covers in-depth environmental issues and indigenous. She has been ICFJ and GIJN's fellow in programs in the USA and South Africa. She also has received scholarships to attend to training workshops in Mexico, Honduras, and Paraguay. She is part of Connectas Hub and in 2017 she spent a semester in Bogotá working from the headquarters of the organization.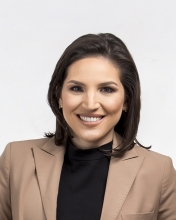 Elaine Miranda
Country: Nicaragua
Finance Graduate, founder of the first Personal Finance blog in Nicaragua, Plata con Plática. With more than 800 written articles and several ebooks, this financial education platform is one of the most widely read blogs in the country, with approximately 100,000 visits per month. Elaine has taught over 350 conferences and workshops around financial education and this has earned her recognition from FVBC, COSEP, FINCON, E&N, and more.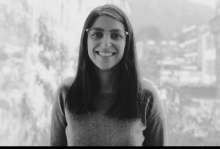 Laura Rojas Aponte
Country: Colombia
LinkedIn: @laurarojasaponte
Laura has a personal purpose: strengthening the culture of podcasting in Spanish. For years, she's been listening to her favorite shows in the mornings and fantasizing about the idea of everyone sharing that same experience. Her mission led her to create and help to launch several shows — such as Colombia's #1 podcast DianaUribe.fm — and to promote the growth of conversational podcasts in her city. During office hours, she works for Radio Ambulante as part of the Growth and Innovation team. At night she produces her own podcast about society and culture: Cosas de Internet.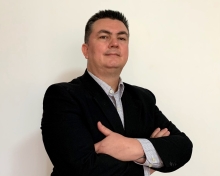 Luis Assardo
Country: Guatemala
 Luis Assardo is a Guatemalan journalist and founder of Confirmado, where he coordinates a team that fight misinformation. For 24 years has worked in paper and broadcast media. The last 10 has been leading digital newsrooms. Is an award winner for his investigations and research about troll factories, disinformation, radicalisation, hate speech and manipulation with electoral purposes. As a professor teaches in many universities about digital journalism, multimedia, innovation, media business, and open source intelligence. Assardo has been a fellow in Japan, Germany, United States and The Netherlands.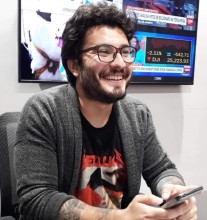 Luiz Fernando Toledo
Country: Brazil
Toledo writes about public policies and education, for both local and national stories. He is one of the directors of the Brazilian Association of Investigative Journalism (Abraji) and a Sigma Awards finalist in 2020 (data journalism prize created by European Journalism Centre). His stories have been published in the most important journalistic websites, newspapers and TV channels in Brazil, such as Estadão, G1, UOL, TV Globo and CNN Brazil. He has also helped  find data and documents to support journalists from The Washington Post and ProPublica. ICFJ fellow in 2018. He is also responsible for the Brazilian newsletter "Don't LAI to Me" (LAI is the Brazilian FOIA), a project to deliver new and relevant public data and documents to help journalists, researchers, lawyers and students, with more than 5,000 subscribers.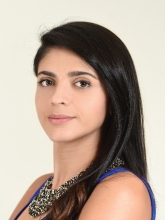 Maria Fernanda
Country: Costa Rica
 María Fernanda is the editor-in-chief of La Voz de Guanacaste, a local and alt-monthly newspaper located on the Pacific coast of Costa Rica. Along with a group of talented journalists, she has developed in-depth investigations on issues related to water scarcity, gender violence, local government corruption, refugees and how big companies use tax havens to hide their profits from the government. For this last investigation, she was among more than 300 journalists who dug into the Panama and Paradise Papers databases. She's 2018 Professional Fellow from Latin America with International Center for Journalists, 2019 Online News Association Fellow for its Women Leadership Accelerator program and a 2018 TEDx Women speaker in Costa Rica. La Voz de Guanacaste recently won the National Institute for Women prize for journalists and an honorific mention at the Journalism National Prize Pío Víquez. She started her career in 2010 working for the biggest media group in Costa Rica. She also wrote for a women-focused magazine where she investigated deep gender-equality stories and for a financial newspaper.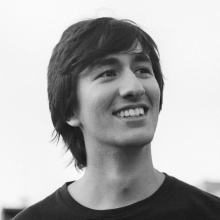 Stefano Wrobleski
Country: Brazil
Stefano Wrobleski works at InfoAmazonia, a geojornalism outlet covering the Amazon region. He started there in 2015, first as a reporter and now as editor and director of technology. He also works at Internews' Earth Journalism Network, leading the technical coordination and management of EJN's GeoJournalism sites. Before starting at InfoAmazonia and EJN, Stefano worked for two years at the online agency of Repórter Brasil's NGO, where he covered human rights and followed inspections of slave labor. He also worked as a freelance reporter for outlets such as The Intercept, Agência Pública, and Le Monde Diplomatique Brasil. He is passionate about data and new forms of online narratives and seeks to incorporate aesthetic concerns to journalistic production. Besides graduating with a degree in journalism at the Pontifical Catholic University of São Paulo, he also holds a bachelor's degree in History at the University of São Paulo (USP) and a Masters in Digital Journalism at the International Institute of Social Sciences (IICS). He was a fellow of the Entrepreneurship 
2in Digital Journalism Program of the International Center for Journalists (ICFJ) in 2016 and a trainee at O Estado de S. Paulo newspaper the year after.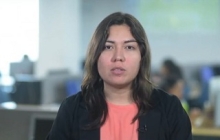 Xenia Gonzalez Oliva
Country: El Salvador
Xenia González Oliva is a journalist based in El Salvador. She has been part of El Diario de Hoy's first data unit where she has published stories related to health issues such as the situation of teenage pregnancies, the persistence of sexual abuse against girls and teens, as well as the epidemic of Chronic Kidney Disease in the country. She has also worked on stories about forced displacement and asylum applications of Salvadorans around the world. She began her work as a journalist in a small newspaper called Diario El Mundo, where she covered homicides and court cases in the afternoons. In 2018, she was part of the International Center for Journalists (ICFJ) Professional Fellows program and contributed to the report of a story published in Propublica. Her story "Homicide, the main cause of death of the bodies that were repatriated to El Salvador" was chosen as part of the shortlist for the for the Data Journalism Awards 2019 "Public choice" award. She holds a master's degree in Cultural Studies of Central America from the University of El Salvador.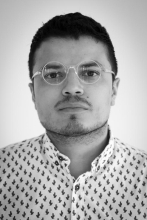 Daniel Villatoro
Country: Guatemala
Since January 2020, Daniel  works as Executive Director of Visibles, a communicational organization about LGBTQ+ people in Guatemala. He also works as the coordinator of Exprésate, the Latin American Journalism Initiative of LGBTQ + communities of the International Women's Media Foundation. His areas of expertise are investigative journalism and social technology projects, in addition to addressing representation and discrimination based on sexual orientation and gender identity through various initiatives. His work can be seen in media such as  ProPublica, Univisión and Radio Ambulante (United States), El Faro and Factum (El Salvador),  Convoca (Peru), Plaza Pública, El Periódico, No-Ficción and  OjoConMiPisto (Guatemala),  Travesías Media (Mexico) and the Network of Journalists for Transparency (Latin America). He worked two years as a trainer at SocialTIC and coordinated the School of Data program for Latin America. He has a degree in Communication Sciences from the Rafael Landívar University and has studies in Experimental Design and Political Sciences. With his consultancy firm, Estudio Abierto has worked on technological, media and training projects together with Internews, IREX, NDI, IRI and PNUD. He is a tutor for courses at the OAS, the IDB, the Knight Center for Journalism at the University of Texas and the Latin American Open Data Initiative. His fellowships include School of Data (2016), Media Entrepreneurship with ICFJ (2018) and the News Corp Media Innovation Fellowship with ICFJ and the Wall Street Journal (2019).