Sub-Saharan Africa: Building Networks that Transform News Coverage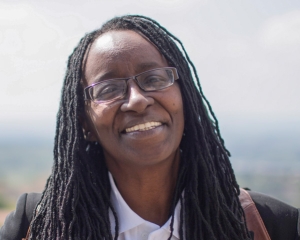 ICFJ Knight Fellow Catherine Gicheru is a driving force behind innovative storytelling, investigative journalism, fact-checking and cross-border reporting on underreported issues. A trailblazer in Kenyan journalism, she has built networks of female journalists who have become innovators in their newsrooms, bringing new techniques and more diverse voices to news coverage.
In response to the COVID-19 pandemic, Gicheru launched the Africa Women Journalism Project (AWJP). It brings together female journalists and data analysts to produce data-driven coverage of underreported health, gender and economic issues. Stories have focused on a range of vulnerable groups from school children to street vendors, and on medical services available to victims of the disease. They have shed light on marginalized groups and communities, who suffer the worst impacts of the pandemic.
As director of AWJP, Gicheru leads a team of editors, mentors, data specialists and designers who work with journalists in seven countries -- Ghana, Kenya, Nigeria, Senegal, South Africa, Tanzania and Uganda.
Stories have included:
Launched in June 2020, AWJP offers training and support to improve the skills of African women journalists. It also provides members with opportunities to work collaboratively on cross-border journalism projects that highlight neglected issues and communities.
Earlier in her Knight fellowship, Gicheru led a panAfrican women's data journalism network, WanaData ("daughters of data" in Swahili), a project developed in a partnership between ICFJ and Code for Africa, one of Africa's premier organizations promoting digital journalism and another initiative launched by ICFJ Knight Fellows.
Gicheru also co-founded Kenya's first fact-checking news site, PesaCheck. She has kept up the fight against mis- and dis-information by sharing effective techniques across the Sub-Saharan region.
The founding editor of the Star newspaper in Nairobi, Gicheru was also the first female news editor at the Nation Media Group, the largest and most influential  media group in East Africa. She is a recipient of the International Women's Media Foundation's Courage in Journalism Award and was named by New African magazine as one of the 100 Most Influential Africans of 2018.
Gicheru is a member of the board of the Reuters Institute for the Study of Journalism and also serves on the board of directors of the Media Development Investment Fund (MDIF).