Kenya: Promoting Data and Fact-Checking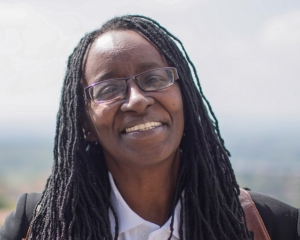 ICFJ Knight Fellow Catherine Gicheru is a veteran Kenyan editor who is working with the Code for Kenya open-data initiative to promote data journalism and civic innovation as a means to strengthen storytelling and audience engagement.
Prior to the fellowship, she was a Reuters Fellow at Oxford University, where she studied the challenges facing print media throughout sub-Saharan Africa.
A trail-blazing journalist, Gicheru was the founding editor of the Star newspaper, now the fastest growing newspaper in Kenya. She also worked as a reporter and later served as the news editor and investigations editor for the Nairobi-based Nation Media Group. She was the first woman to hold those top positions in the history of the Kenyan print media. In 1992, she was awarded the International Women's Media Foundation's Courage in Journalism Award.
During her Knight Fellowship, she will coordinate collaboration among journalists and technologists who will be embedded in newsrooms to harness the power of data to develop compelling stories.