Kenya: Promoting Diverse Voices and Data-driven Storytelling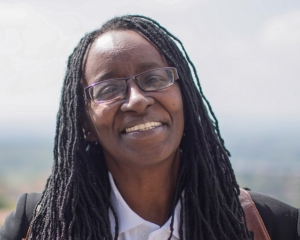 One of the most influential women in news media in Africa, ICFJ Knight Fellow Catherine Gicheru is spreading data journalism and other creative strategies for reporting on underserved communities. A pioneering Kenyan editor, she builds networks that bring together women journalists, data experts and content specialists to improve coverage of issues that matter.
Currently, Gicheru spearheads a project that drives coverage of underreported gender, health and development issues affecting marginalized groups. That initiative, the Africa Women Journalism Project (AWJP), also works to strengthening the voices of women journalists by helping them to become innovators in their newsrooms.
As the driving force behind AWJP, Gicheru leads a team of journalists, mentors and data analysts in five African countries (Ghana, Kenya, Nigeria, Tanzania and Uganda) who are producing smart, data-based storytelling with a special focus on COVID-19.
Stories have included--
A multimedia article in Kenya's Star newspaper on violent enforcement of COVID-19 restrictions, which led to more citizen deaths than the virus did in the early stages;
A look at challenges faced by Ghanaian children returning to school in the midst of the pandemic;
A report on fear and death stalking COVID hospital wards in Nairobi
Launched in June 2020 in partnership with the International Center for Journalists (ICFJ), AWJP offers training and support to improve the skills of African women journalists. It also provides members with opportunities to work collaboratively on cross-border journalism projects that highlight neglected issues and communities.
Earlier in her Knight fellowship, Gicheru led a panAfrican women's data journalism network, WanaData (Daughters of Data), a project developed in a partnership between ICFJ and Code for Africa.
Gicheru also co-founded Kenya's first fact-checking news site, PesaCheck. She has kept up the fight against mis- and dis-information by sharing effective techniques across Kenya. In 2019, Gicheru worked with PesaCheck and the Kenya Community Media Network to provide fact-checking and verification skills at urban and rural community radio stations across the country. PesaCheck's team of fact-checkers trained reporters on debunking misinformation, disinformation, fake news and propaganda. The result has been more responsible journalism, with the stations reporting that they are more cautious about sharing unverified images and information.
The founding editor of the Star Newspaper in Nairobi, Gicheru was also the first news editor and investigations editor for the Nation Media Group. She is a recipient of the International Women's Media Foundation's Courage in Journalism Award. She is also a member of the board of the Reuters Institute for the Study of Journalism.