Kenya: Promoting Data, Fighting Misinformation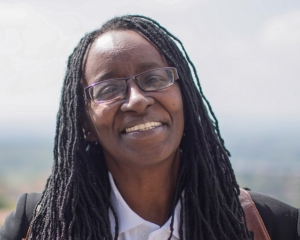 One of the most influential women in news media in Africa, ICFJ Knight Fellow Catherine Gicheru is spreading data journalism and strategies for fighting disinformation across borders. A veteran Kenyan editor, Gicheru serves on the executive committee of the civic tech and media innovation nonprofit Code for Africa, which was founded by ICFJ Knight Fellows. She is also a member of the board of the Reuters Institute for the Study of Journalism.
The founding editor of the Star Newspaper, she was also the first news editor and investigations editor for the Nation Media Group. She is a recipient of the International Women's Media Foundation's Courage in Journalism Award.
As an ICFJ Knight Fellow, Gicheru is:
• Empowering African Women Journalists and Innovators:
Gicheru leads WanaData ("Daughters of Data"), a network of African women journalists, data scientists, and developers working together to create data-driven content for African newsrooms. WanaData empowers women journalists to produce data-enhanced news coverage by providing training, reporting grants, and peer-to-peer mentorship. Under her stewardship, WanaData network members have been able to collaborate on three major cross-border reporting projects focusing on Female Genital Mutilation (FGM), gender equality, and human trafficking. WanaData members have been able to introduce new and innovative storytelling techniques to their newsrooms, including the use of air quality sensors to collect real-time data, as well as first time use of visualization tools such as Flourish, Tableau, and Timeline.
• Spurring Digital and Data Journalism in Africa:
As the head of the Code for Africa's community initiatives, Gicheru is helping newsrooms improve in-house data and digital storytelling skills with training workshops and online courses provided through Code for Africa's digital journalism program Academy.Africa. Under Gicheru's stewardship, the Code for Africa team of Academy trainers have trained over 600 journalists in Kenya, Nigeria, South Africa and Tanzania. Academy trainings on fact-checking held at Kenyan online news platform TUKO News resulted in the outlet establishing an in-house fact checking desk to fight misinformation online.
Gicheru spearheads the Hacks/Hackers community of over 1,500 journalists and technologists who work together to rethink the future of news and information and create new solutions to challenges faced by citizens. The community includes 13 chapters – in Abuja, Benin; Lagos, Nigeria; Addis Ababa, Ethiopia; Cape Town, Durban and Johannesburg, South Africa; Dakar, Senegal; Dar es Salaam, Tanzania; Kampala, Uganda; Nairobi, Kenya; and Casablanca and Rabat, Morocco. Hacks/Hackers meetups are used to develop toolkits and resources, and to offer tutorials on a range of digital-related topics.
• Promoting Strategies to Counter Misinformation and Disinformation:
Early in her Knight Fellowship, Gicheru co-founded Kenya's first fact-checking news site, PesaCheck. She has kept up the fight against mis- and dis-information by sharing effective techniques across Kenya. In 2019, Gicheru worked with PesaCheck and the Kenya Community Media Network to provide fact-checking and verification skills at urban and rural community radio stations across the country. PesaCheck's team of fact-checkers trained reporters on debunking misinformation, disinformation, fake news and propaganda, which is highly common at the community level in Kenya. The result has been more responsible journalism, with the stations reporting that they are more cautious about sharing unverified images and information, especially on social media.