Latin America: Spearheading cross-border data storytelling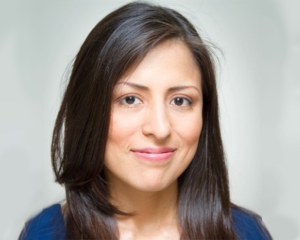 ICFJ Knight Fellow Fabiola Torres is strengthening journalists' digital investigative reporting skills to improve coverage of health, corruption and governance issues in Latin America. She leads cross-border teams in deep investigations that consistently lead to government action to improve citizens' conditions.
In July 2019, she launched Latin America's only news site devoted exclusively to health reporting. The site, Salud con Lupa ("health under a magnifying glass") engages audiences in Spanish and English with data-driven visualizations and investigations that expose corruption in health care systems and explain critical health information to the public.
During the project's first year, journalists in eight Latin American countries revealed abuses of power in the region's health care systems, uncovered mistreatment of women in maternity wards, and showed how powerful financial interests shape nutrition labeling in the region.
When the COVID-19 struck Latin American countries in early 2020, teams of journalists under Torres's leadership sprang into action, providing unparalleled coverage of the health crisis and driving news reporting on the pandemic across the region. Torres built a special pandemic reporting team of 10 health reporters to work in 10 countries where they produced dozens of stories tracking impacts of the disease and government strategies and spending to contain it. 

The project has resulted in major impacts:
In Argentina, the city of Buenos Aires launched an investigation of its spending practices after a Salud con Lupa story showed that the city wasted $2.4 million buying masks that were never delivered.
In El Salvador, President Nayib Bukele fired the director of the country's Environmental Fund after Salud con Lupa broke the story that the official sold the government 100,000 face shields at inflated prices, in violation of the rule prohibiting him from receiving state contracts.
In Colombia, a funeral company lost a large government contract to perform cremations of COVID-19 victims after a Salud con Lupa investigation revealed that it had violated environmental regulations by improperly disposing of demolition and construction materials.
Torres is a co-founder and editor of OjoPublico, an independent, nonprofit Peruvian newsroom known internationally for its award-winning investigative journalism.
Early in her Knight fellowship, Torres worked with a variety of Latin American media partners that range from burgeoning digital startups to legacy media to the transnational CONNECTAS Hub, a network of some 200 journalists in 15 Latin American countries.
She has shared best practices for fighting misinformation at U.S. and international conferences including Global Fact7 in June 2020, the 2019 Investigative Journalism Global Conference (Hamburg), 8 Digital Media and Journalism Forum (Mexico City), and The Global Health Conference organized by the Florida International University (Miami). Two of its major collaborative investigations were highlighted in articles by The Global Investigative Journalism Network (GIJN), The Knight Center for Journalism in the Americas and The International Consortium of Investigative Journalists (ICIJ).