Latin America: Driving health news that fights misinformation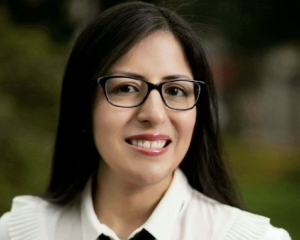 ICFJ Knight Fellow Fabiola Torres spearheads a project that deepens news coverage of health, corruption and governance across Latin America. She steers cross-border teams of journalists who fight misinformation, expose wrongdoing and produce investigative stories that consistently lead to improvements in policies and people's lives.
A year before COVID-19 struck, Torres created the health reporting platform Salud con Lupa ("health under a magnifying glass"), the region's first news site devoted exclusively to health reporting.
When it struck in early 2020, Torres built a corps of journalists in 10 countries to produce investigative, data-driven, multimedia news stories around the pandemic. They reported in depth on the swath of disease and destruction that hit the region, and they revealed corruption that marred efforts to purchase medical supplies and protective gear for health workers and the public.
The project has lead to major impacts:
The Salud con Lupa website also features special sections that address critical issues:
Debunking Health Misinformation
The Comprueba (or Check) section of the platform dispels rumors and spreads accurate information about health matters. It addresses questions ranging from unproven treatments for COVID-19 such as malaria medicines and vitamin supplements to the safety of air travel during the pandemic.

Curating Fact-Checks for easier access
In 2021, with additional support from the Poynter Institute, Torres is launching the Lupa Colectiva project, a virtual dashboard where viewers will be able to follow topics being fact-checked by Salud con Lupa's journalists in collaboration with scientists from the Epistemonikos Foundation (https://saludconlupa.com/comprueba/).
Examining important topics in depth, including:
Torres is a co-founder and editor of OjoPublico, an independent, nonprofit Peruvian newsroom known internationally for its award-winning investigative journalism.
Early in her Knight fellowship, she worked with a variety of Latin American media partners that range from burgeoning digital startups to legacy media to the transnational CONNECTAS Hub, a network of some 200 journalists in 15 Latin American countries.