India: Developing Digital Tools for Newsrooms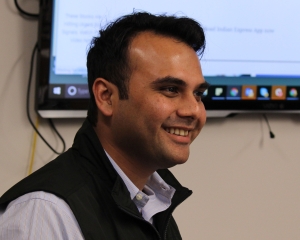 ICFJ Knight Fellow Ritvvij Parrikh helped Indian newsrooms use technology and data to launch projects around a range of social issues such as health, gender and sanitation.
Beginning in 2017, Parrikh was part of a team of ICFJ Knight Fellows in India, led by digital strategist Nasr ul Hadi, working to help traditional and digital-first media deepen their coverage by building their related body of work into theme-specific microsites — including Dainik Jagran's award-winning "My City My Pride" project, which engaged readers in ranking their cities on health services, education, economic opportunities and other development issues.
Parrikh managed the development of new storytelling tools to engage users, such as easy-to-build, mobile-first quizzes and timelines that were eventually strung together as a modular content management system (CMS), used at the time by seven Indian media outlets across the country.
In late 2018, Parrikh joined Hadi as co-founder of PROTO, ICFJ's regional media development partner in India that works on applied research and peer-to-peer learning for journalists. He collaborated with other ICFJ Knight Fellows and PROTO staff on research projects in development journalism and misinformation, including a study commissioned by WhatsApp on election-related rumors in closed messaging apps, and a subsequent paper presented at Poynter's GlobalFact7 conference.
Before becoming a Knight Fellow, Parrikh was founder of data visualization agency Pykih. He left the fellowship and PROTO in October 2020.