India: Developing Digital Tools for Newsrooms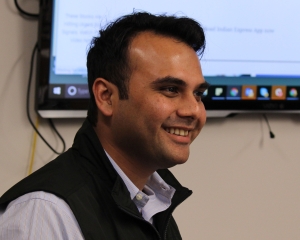 ICFJ Knight Fellow Ritvvij Parrikh leads the development of tools for journalism for our team of Fellows in India. His projects are helping newsrooms across the subcontinent produce innovative storytelling and increase engagement with their audiences across platforms. Parrikh is an experienced technologist with expertise in product management, visual interfaces and data-driven decision-making.
Parrikh is part of a team of ICFJ Knight Fellows in India that is strengthening reporting and storytelling to expand coverage of health, gender and development issues. This team works with a wide range of Indian media outlets, including two of the country's largest and most influential: Hindi-language Jagran New Media Group and The Indian Express, which publishes in English.
During his Fellowship, Parrikh has created and led the development of the Proto Platform, a suite of new storytelling tools to help journalists expand their body of work on a specific theme or issue. It also helps reporters gamify the news with easy-to-build quizzes and timelines. To date, the platform has been used by seven Indian media outlets across the country. Some of Proto's features:
Its mobile-first design makes it easier for audiences to view and interact with the news using phones.

The platform allows a newsroom to host it on its own servers rather than embed it from a third party. This gives newsrooms full control over their data and reducing page load time.

Proto is SEO-friendly, making it easier for audiences to find a newsroom's projects  via Google or other search engines.
Parrikh also founded Pykih, a consulting firm that helps organizations discover, develop and launch data-driven products to build new audiences and revenue streams. Pykih is ICFJ's technology partner for this program.