India: Developing Digital Tools for Newsrooms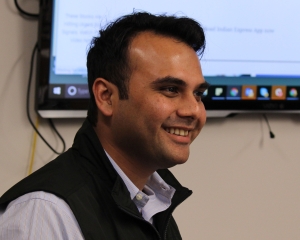 An experienced technologist with expertise in product management, visual interfaces and data-driven decision-making, ICFJ Knight Fellow Ritvvij Parrikh is helping newsrooms across the subcontinent produce innovative storytelling and increase engagement with their audiences across platforms. Parrikh is the co-founder of PROTO, a media development start-up launched in India to champion innovation, research and peer-to-peer learning for journalists.
Through his fellowship, Parrikh is:
• Leading quarterly lab weeks and annual residencies that focus on prototyping, building, and launching innovative tools and products that improve Indian media's credibility, sustainability and adaptability. During his Fellowship, Parrikh has created and led the development of new storytelling tools to help journalists expand their body of work on a specific theme or issue. His tools help reporters engage users with easy-to-build quizzes and timelines. To date, they have been used by seven Indian media outlets across the country, and provide a mobile-first design makes it easier for audiences to view and interact with the news using phones, as well as a platform that allows newsrooms to host projects on their own servers rather than embed from a third party. This gives newsrooms full control over their data and reduces pages' load time.
• Leading research on Misinformation and Disinformation: Parrikh spearheaded a major research project called Checkpoint​, a study on how misinformation spread via private messaging platform WhatsApp during India's 2019 general elections. To collect data for the research, Checkpoint created a WhatsApp-linked tipline, inviting citizens to forward suspicious messages they encountered on the platform. He worked with ICFJ ​TruthBuzz ​Fellow Shalini Joshi, who co-managed the tipline, which received over 180,000 messages and verified 500 unique election-related claims. Those who submitted a claim to the tipline received a response with information on whether the claim was true or false.