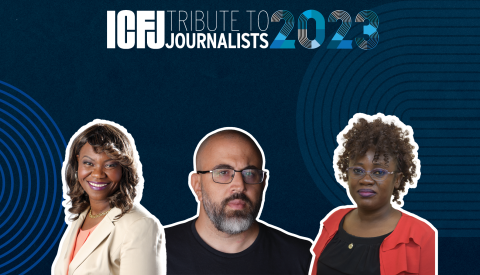 The International Center for Journalists (ICFJ) announced prestigious awards to three journalists distinguished by their passion and perseverance in covering global crises and uncovering widespread corruption. 
Miami Herald Caribbean Correspondent Jacqueline Charles, who has provided incisive reporting on disasters, violence, corruption and more in Haiti and elsewhere in the region, will receive the ICFJ Excellence in International Reporting Award.
The 2023 ICFJ Knight International Journalism Awards go to Riad Kobaissi of Lebanon, an investigative journalist whose revelations of corruption foreshadowed the Beirut port explosion, and Mariam Ouédraogo of Burkina Faso, who has shown the impact of extremism in West Africa on women and children.
"All of these journalists exemplify why courageous reporting on the most important issues of our time – from war and terrorism to crime and corruption – is so vital," said ICFJ President Sharon Moshavi. "They have risked their lives to bring us difficult, heart-wrenching stories. And their work has had an impact, focusing the world's attention on suffering, ensuring that the most vulnerable get help, and holding the powerful to account."

The three journalists will be honored Nov. 2 at the ICFJ Tribute to Journalists 2023, along with CNN's Wolf Blitzer, who will receive the ICFJ Founders Award for Excellence in Journalism, as announced by ICFJ in March. Jonathan Capehart of The Washington Post and MSNBC will host the event, which will take place in person and online.

"Journalists serve as steadfast guardians of facts, accountability, and transparency around the world, playing an indispensable role in uncovering corruption and shining a light on harms inflicted on the world's most vulnerable populations," said Karen Rundlet, senior director of journalism at the John S. and James L. Knight Foundation, which supports the ICFJ Knight Awards. "We applaud the International Center for Journalists for recognizing these indispensable global servants."

International Reporting Awardee
Jacqueline Charles
Charles has spent more than two decades covering Haiti, the poorest country of the Western Hemisphere, and other countries of the Caribbean. Her fearless journalism has shed light on hurricanes and other natural disasters, the murder of former President Jovenel Moïse, and the plight of Haitian migrants trying to get to the United States.

Charles was named the National Association of Black Journalists' 2022 Journalist of the Year, the second time she won that award. She was a finalist for a Pulitzer Prize for her coverage of Haiti's 2010 earthquake that killed at least 200,000 people. Born in the Turks and Caicos Islands of Haitian descent, Charles began her career at the Herald as an intern at age 14.

ICFJ Knight Awardees

The Knight International Journalism Awards have been the centerpiece of ICFJ's annual Tribute since 1998, honoring journalists and media innovators who show extraordinary courage in bringing vital information to audiences in countries beset by conflict and press freedom challenges. This year's winners were selected by a distinguished panel of media leaders.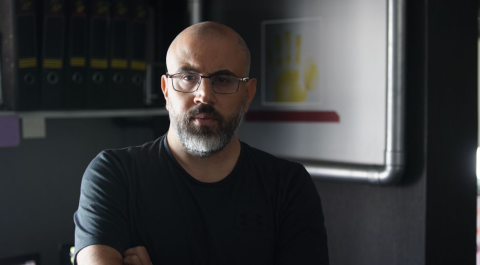 Riad Kobaissi
Kobaissi is an investigative journalist and TV presenter in Lebanon who has made a name for himself exposing corruption at the highest levels of power. For several years before the 2020 Beirut port tragedy, Kobaissi reported on corrupt port officials – some of whom were later prosecuted.

He has collaborated on cross-border investigations including the Swiss Leaks, Panama Papers, and one with the Organized Crime and Corruption Reporting Project (OCCRP) that links Lebanon's central bank governor to multimillion-dollar offshore companies. Known for his defiant style, Kobaissi heads the Investigative Report Unit at the Lebanese TV channel Al Jadeed and anchors his own weekly show exposing the fortunes of the country's elite.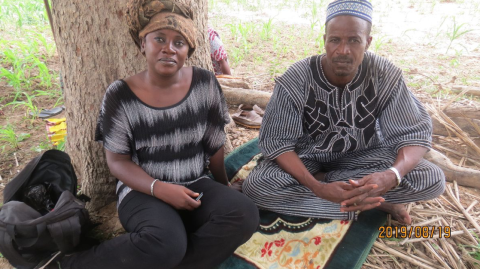 Mariam Ouédraogo
Motivated by a disdain for "human misery," Ouédraogo shines a light on difficult topics – often involving women and girls – in Burkina Faso, a conflict-embroiled country that endured two military coups last year alone.

Ouédraogo, writing for the public Sidwaya newspaper, has detailed the experiences of women who have suffered kidnapping, rape and lashings at the hands of insurgent jihadist groups. For this coverage, she won what's considered the world's most prestigious prize for war correspondents, the Bayeux Calvados-Normandy Award – and was the first woman journalist from Africa to do so.

The ICFJ Knight Awards raise visibility for the journalists who win them and provide a sense of professional solidarity to those working in difficult and often dangerous circumstances. ICFJ continues to stand by the honorees long after they have won the award, as ICFJ is now doing for 2003 winner José Rubén Zamora, publisher of elPeriódico in Guatemala, who was sentenced on June 14 to six years in prison on charges intended to silence his reporting. ICFJ has called on the Guatemalan government to release him and has provided support for him and his colleagues. Read more.


The ICFJ Knight International Journalism Award winners were selected by a distinguished panel of media leaders. 
2023 ICFJ Knight International Journalism Award Judges
Ravi Agrawal, Editor in Chief, Foreign Policy
Karen Attiah, Columnist, The Washington Post
Jacqueline Barnathan, Former Executive Editor, CBS News
Melissa Bell, Publisher and Founder, Vox Media, Inc
Alex Jakana, Senior Program Officer, The Gates Foundation
Nicholas Johnston, Publisher, Axios
Natália Leal, 2021 ICFJ Knight Award Winner and Chief Executive Officer at Agência Lupa
Mark Lima, Vice President and Washington Bureau Chief, CBS News
Olivia Ma, Managing Director, Google News Initiative
Shazna Nessa, Global Head of Visuals, The Wall Street Journal
Aimee Rinehart, Program Manager, The Associated Press's Local News AI Initiative
Rose Wangui, 2019 ICFJ Knight Award Winner and Senior Feature Reporter at NTV Kenya
José Zamora, ICFJ Board Member and Chief Communications and Impact Officer, Exile Content Studio