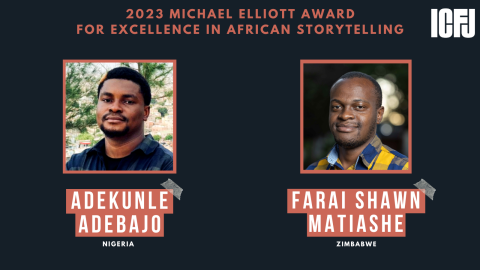 A journalist who investigated the lives of kidnapped schoolgirls now in university in Nigeria and another who chronicled how rising temperatures in Zimbabwe are impacting an all-women fishing cooperative are the 2023 winners of the Michael Elliott Award for Excellence in African Storytelling. 
Adekunle Adebajo's winning story, "Keeping Up With The Chibok Girls," examines the fate of some of the students kidnapped by Boko Haram in 2014 who later escaped or were released from captivity. Adebajo, who is an investigative editor at HumAngle, reported that many of the survivors enrolled in Nigerian universities today have not received adequate support and face an array of challenges, including discrimination.  
Farai Shawn Matiashe, whose reporting focuses on environmental, political and business issues in Africa, wrote a gripping story for CNN about an all-women fishing cooperative on the Zambezi River in Zimbabwe, the first such group in the community. Matiashe describes how climate change is affecting the pioneering cooperative, jeopardizing the empowerment and economic stability that fishing has granted its members so far. 
The International Center for Journalists (ICFJ), in partnership with the ONE Campaign and the Elliott family, gives out the prestigious Elliott Award. It was established in 2016 in honor of Michael Elliott, an outstanding editor and philanthropist whose life was a testament to the power of storytelling to bear witness to and improve the human condition. 
The prize aims to advance the work of emerging journalists in Africa who strive to strengthen people's voices and improve their well-being. Previous winners include Mercy Juma and Dorcas Wangira of Kenya; Bernadette Vivuya of the Democratic Republic of the Congo; Khalid Bencherif of Morocco; Nalova Akua of Cameroon; and Abubakar Ibrahim, Kiki Mordi and Zainab Bala of Nigeria. These talented journalists have uncovered child labor in mines, exposed sexual harassment in universities, the fight against female genital mutilation, and more. 
Adebajo and Matiashe will receive a cash prize and take part in a customized professional development program at The Economist headquarters in London. 
"Adekunle Adebajo and Farai Shawn Matiashe took great care to report these powerful stories, shining a light on inspiring women working to improve their conditions and the incredible challenges that they face," said Emma Oxford, Michael Elliott's widow. "I am grateful to the many individuals and institutions who honor Michael with their continued support for the program. I am also grateful to The Economist for hosting the winners again this year: I know that Adekunle and Farai will have an unforgettable experience in London, and I warmly congratulate them." 
"We had a strong field of entries in this year's Michael Elliott Award and two outstanding winners," said Lionel Barber, former editor of the Financial Times and author of The Powerful and the Damned, who chaired the international panel that selected Adebajo and Matiashe from among 206 applicants. "Adekunle Adebajo and Farai Shawn Matiashe produced fearless reporting and vivid storytelling on matters of human justice and environmental degradation in Nigeria and Zimbabwe respectively. I salute them on behalf of the judges and wish them every success in their careers."  
The 2023 award judges were:  
Lionel Barber, Chair, Former Editor of the Financial Times 
Matthew Bishop, Nonresident Senior Fellow, Global Economy and Development, Brookings Institution   
Jackie Chimhanzi, CEO, African Leadership Institute 
Kate Critchley, Executive Director, Communications and Content, ONE    
Catherine Gicheru, ICFJ Knight Fellow and Director of The Africa Women Journalism Project  
Abubakar Ibrahim, Features Editor, Daily Trust and 2018 Elliott Award Winner   
Mercy Juma, BBC Africa Correspondent and 2017 Elliott Award Winner   
Rik Kirkland, Senior Advisor, McKinsey and Company, and ICFJ Board Director  
Sharon Moshavi, President, International Center for Journalists 
Emma Oxford, Author, At Least We Lived    
Jonathan Rosenthal, Africa Editor, The Economist  
Dorcas Wangira, Feature Writer, Citizen Television and 2019 Elliott Award winner 
Michael Elliott served as a top editor at The Economist, Newsweek, and Time before becoming CEO of ONE. A passionate writer and editor with a gift for unraveling complex issues, he shone a light on global development issues and the people at their center. A longtime board member of ICFJ, Elliott championed great journalism as a tool for empowerment. As ONE's CEO, he lobbied to improve the lives of all Africans. Shortly before his untimely death in 2016, Elliott spoke of his dream to establish an award that would bring together his belief in great journalism with his commitment to progress in Africa.