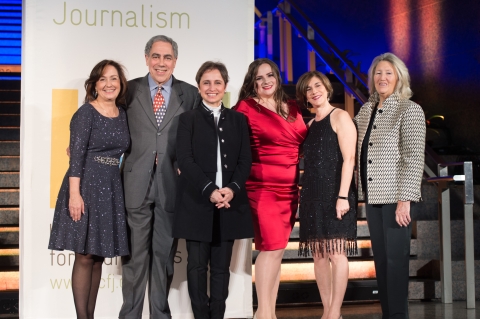 On Nov. 14, 550 people gathered for the International Center for Journalists' annual Awards Dinner. We paid tribute to outstanding journalists whose coverage has had a major impact. CNN's Wolf Blitzer served as master of ceremonies. Please check out our photo gallery. We also featured real-time drawings by New Yorker cartoonist Liza Donnelly. The highlights:
CNN war correspondent Clarissa Ward, an intrepid reporter who covers international hotspots, urged journalists against selective listening - a lesson she says she learned from Rose. Ward received ICFJ's Excellence in International Reporting Award. Read more or see her tribute video and speech.
Investigative reporters from Mexico and Bosnia, received the Knight International Journalism Award. Carmen Aristegui, accepting the award on behalf of her courageous team, said she worried about the harm President Donald Trump could pose to her native Mexico. Read our story (in English or Spanish) or check out the full text (in English or Spanish) and watch her tribute video.
Miranda Patrucic, a Sarajevo-based journalist who uncovers high-level corruption in Eastern Europe and Central Asia, said many journalists in her region must remain anonymous for fear of reprisals. Read our story about her speech, watch her tribute video or read her remarks.
In honor of our longtime board member, we announced the creation of the Michael Elliott Award for Excellence in African Storytelling. Elliott, who passed away in July, was a leading editor at three great news magazines: The Economist, Newsweek and TIME. He later became the CEO of Bono's nonprofit, ONE.
The evening also demonstrated how ICFJ is shaping the future of global journalism. Thanks so much to everyone who supports our work. We hope you can join us next year.


Highlights from the 2016 ICFJ Awards Dinner
 
Note: ICFJ gave the 2016 Founders Award for Excellence in Journalism to Charlie Rose. In 2017, ICFJ's Board of Directors, in a unanimous decision, revoked the award.
CHECK OUT PAST AWARDS EVENTS
---