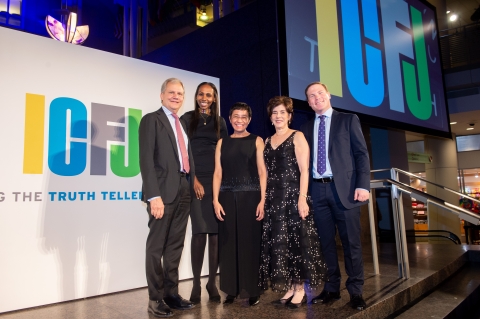 Last night, at the ICFJ Awards Dinner, we highlighted the tremendous impact of intrepid journalists at this ominous moment. The honorees found innovative ways to keep information flowing in these hard times and shed light on important global issues – from corruption to modern-day slavery. Above all, they delivered a consistent message: Journalists need to stand together at a time of unsettling threats and clampdowns on a free press.
CNN's Wolf Blitzer served as master of ceremonies for the evening. New Yorker and CBS News cartoonist Liza Donnelly provided live coverage of the night's event. Please check out her terrific drawings, and don't miss our photo gallery.
We want to thank all of you who made a donation to back our programs empowering the truth tellers. Our work is more essential than ever, so please consider making a contribution in the name of quality journalism. We're so glad you could join us for this special evening.