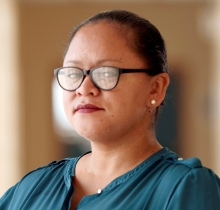 Andrea Polanco
Country: Belize
Media Organization: Great Belize Productions Limited
Story proposal: Polanco seeks to raise national awareness of road traffic accidents in Belize and to promote a culture of safety and preventable actions among drivers, passengers, policymakers, and traffic officers. For her story, she plans to examine trends in road traffic accidents by digging deeper into the causes and effects as well as discuss prevention and safety.
Andrea Polanco is an award-winning news reporter at News 5 for Great Belize Television in Belize. She has four and a half years of experience working in broadcast media. With a passion for human interest stories, she reports extensively on community-related issues. Over the years, she has produced features on the environment, health and social topics - stories that have an impact on the wider population. In her role as a reporter, Polanco also does features and covers hard news topics like crime, politics, disasters and the economy. Outside of her reporting duties, she has also served as a breakfast show producer, a social media coordinator and a documentary producer for Great Belize Television. 

In 2012, she won a Caribbean Broadcasting Union (CBU) award for an environmental story on a protected forest. In the same year, she was awarded the Government of Belize's "Youth in Media Award" through the Ministry of Education, Youth and Sports. In 2017, she produced a thirty-minute documentary on yoga's role in healing the trauma of children exposed to violence, women in prison, and young men in gangs. This documentary received a special commendation from the CBU at its annual awards in 2018. She was also awarded the CBU's "People's Choice" award for a feature story on the birth of a set of triplets. In 2018, she also received five special commendations from the CBU for stories on HIV/AIDS, climate change, and turtle conservation. 
Polanco holds a B.A. in media and communication from the University of West Indies (UWI), Mona Campus in Jamaica and an M.A. in television journalism from Goldsmiths, University of London.  Polanco is a Chevening alumna and a fellow of The Stanley Foundation.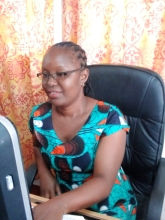 Betty Tesha
Country: Tanzania
Media Organization:  Tanzania Broadcasting Corporation
Story proposal: Tesha's story idea focuses on how road traffic crashes contribute to poverty in Tanzania. She wishes to explore the impact of road traffic accidents at both the household and public health system levels.
Betty Norbert Tesha was born in 1982 in the Kigomaregion. She's married and can fluently speak in English and Kiswahili. She is currently working with the Tanzania Broadcasting Corporation as a program producer with more than 15 years of experience. During this time, she has worked as a writer, radio presenter, and producer.

After completing a certificate of Secondary Education in 2000, she joined the East Africa Training Institute in the Arusha region where she acquired a Certificate in Journalism and Broadcasting. Upon completion, she later joined the Institute of Arts and Media Communication where she earned a Diploma in Television, Video, & Film Production.

Tesha has participated in various trainings and workshops including a one-week investigative journalism course conducted by the Institute of Dar Es Salaam in 2004. In 2016, she also attended a month-long training on arabic for African Media Communicators at the Center for Training and Media Studies in Egypt.

Tesha is currently working with the WHO Dar es Salaam country office in collaboration with the Ministry of Health, Social Development, Gender, Adults and Children, primarily in relation to the 2018 Road Safety fellowship.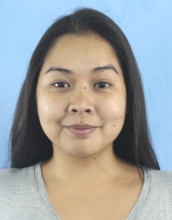 Cathrina Chanel Chang
Country: Sri Lanka
Media Organization: Derana Power House Limited
Story proposal: Chang's story will comprise of three video segments revolving around the current occupational safety and health situation in Sri Lanka. She plans to also produce "snackable content" and create infographics on social media to raise awareness on online platforms. 
Chang is an individual who is self-driven and passionate in the field of journalism. She currently works as a senior journalist and news anchor at Sri Lanka's premier news channel, Ada Derana, which is the country's first and only 24/7 News Channel broadcast in both the English and Sinhala languages. Ada Derana is active on social media platforms including YouTube and Facebook in order to reach a wider audience on the web.

With 6 years of work experience in the media industry, Chang has reported on multiple topics ranging from current affairs to business.  However, as a resident of a middle income country where development projects are in full swing, she has a keen interest in reporting on the sustainability of such projects with a special focus on the safety and security of the country's most valuable resource: its human resources.

As an individual who is always eager to learn and develop, Chang's goal in life is to remain hungry for knowledge and use communication as a tool for social change.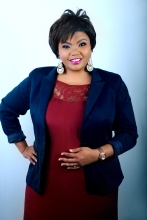 Euline Reid
Country: South Africa
Media Organization: South African Broadcasting Corporation
Story Proposal: Reid's story focuses on the death of children on South African roads. She plans to investigate which provinces have the largest spike in children's deaths and what law enforcement officers are doing to implement road safety rules.
 Reid is a 35-year old wife, mother, and storyteller. She is employed by the South African Broadcasting Corporation as a TV documentary producer and has been in the media industry for the past 12 years.
Reid has a B.A. Honors in journalism and media studies. She has a passion for telling human interest stories and makes sure to use all available platforms to tell these stories.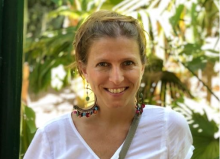 Jesica Alicia Mateu
Country: Argentina
Media Organization: Freelancer
Story Proposal: Mateu plans to write about water safety and children's drowning prevention. She seeks to dispel myths about drowning and help communicate strategies that adults, in general and in Argentina, could develop to prevent children's drowning deaths. Mateu would also like to look into water safety strategies children and adolescents themselves can employ.
 
Jesica Mateu is 37 years old and has been a journalist for 16 years. She loves her profession because not only does it let her learn about different topics constantly,  it also gives her the opportunity to share valuable information with her community.
Mateu is a wife and a mother. She is married to Paul, with whom she has two beautiful children, Sofía (5) and Nicolás (2).
When Sofía was born, she quit her journalist position at the El Cronista Comercial newspaper with the objective of becoming a freelancer in order to combine maternity and career, as well as encounter new professional challenges.
As a result, Mateu has written for news outlets like La Voz del Interior newspaper. It gave her the chance to cover health journalism. She has been publishing articles since 2013 at the newspaper. 
In addition, she is the editor of a magazine for the affiliates of a health insurance company. Since January 2018, she has served as the editor of the internal communication magazine of a well-known Buenos Aires's hospital, Hospital Alemán. Having the opportunity to spread new views, scientific achievements, prevention strategies, and experts' advice brings her immense satisfaction.
Mateu is a sociable person. She loves to travel, speak other languages, enjoy cultural activities, and spend time outdoors. She cherishes her family and friends a lot because they are really good people that make her life more pleasant and meaningful.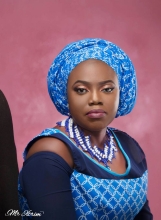 Justina Asishana
Country: Nigeria
Media Organization: The Nation Newspaper
Story Proposal: Asishana's story idea involves taking a critical look at boat accidents across Nigeria through a solutions journalism approach. Her report, which will focus on accidents in the northern part of Nigeria, will look at the implications of boat mishaps and see what other nations are doing to ensure safety in their waterways. 
Justina Asishana is a Nigerian from the Edo state in the southern region of Nigeria. She lives in Niger state where she works as the state correspondent for The Nation newspaper. She holds a B.Sc. in mass communication from the National Open University of Nigeria (NOUN) and a diploma in mass communication from the Nasarawa State Polytechnic, Lafia.
She previously worked at the News Nigerian newspaper and News Watch newspaper as the Niger state correspondent.
Asishana is an upcoming data and investigative journalist who has just discovered using data for better reporting. She has done some investigations for her media organization, The Nation, the International Center for Investigative Reporting (ICIR), and the Wole Soyinka Center for Investigative Journalism (WSCIJ).
Although Asishana covers all sectors as a state correspondent, she is passionate about looking at how health can be improved and how maternal and child mortality can end. She is also an advocate for child and human rights. To this day, she is a member of the Coalition of Civil Society and the Media on Maternal, Newborn and Child Health in Minna (COMiN). However, Asishana is not afraid to explore new subjects as she is always open and ready to learn new things in the field of journalism.
Asishana loves to read, write, explore the internet, travel, network, and experiment with data tools.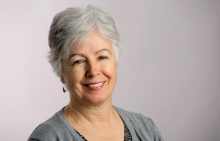 Gladys Elizabeth Payne
Country: Canada
Media Organization: The Ottawa Citizen
Story proposal: Payne has proposed several stories and videos exploring the connection between children who grow up in poverty and their subsequent increased likelihood of injury. She will explore what this means for children and their well-being throughout their lives, and how it is being addressed. She would like to publish a story on the same issue specifically in the context of indigenous communities in Canada.
Gladys Elizabeth Payne (Liz) is a veteran journalist who has worked in all aspects of the newspaper business during her career and has specialized in health reporting. For several decades, she has worked for the Ottawa Citizen newspaper in Canada's capital, editing and writing.
Among areas she has focused on have been indigenous health in Canada. Payne has been fortunate to travel to remote areas of Canada's north to write about a suicide epidemic among indigenous youth as well as a return to midwifery which has enabled Inuit mothers to remain at home to give birth.
Payne has also travelled to West Africa — Mali and Guinea — to write about water quality issues and Canada's role in developing an Ebola vaccine that helped save lives in Guinea during the 2015 Ebola outbreak and is again being used in more recent outbreaks in DRC.
As the newspaper business has increasingly shrunk, she has reported mostly from home about health issues and related research in and around Canada's capital of Ottawa. She has won numerous awards for her reporting and has won several fellowships that have allowed her to travel to conferences to learn more about aging, something she could not have otherwise done.
Payne is the mother of two daughters, both in their 20s, and plays the violin with a group of amateurs in her spare time.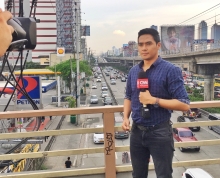 Makoi Popioco
Country: Philippines
Media Organization: CNN Philippines
Story proposal: Popioco will pursue a data-driven report on the impact of motorcycle helmet bans that some cities in the Philippines have implemented as a crime prevention measure. These laws were implemented to prevent criminals from using motorcycles as  getaway vehicles. His project will explore the impact of these policies on road crashes and crime reduction. 
Makoi Popioco is a CNN Philippines Correspondent who has documented the biggest transportation issues in the Philippines in the last three years.
He was at the front lines of CNN Philippines' coverage on the controversy surrounding Uber Philippines and other ride-hailing companies. He has also extensively reported on the government's widely opposed Public Utility Vehicle Modernization program.
Apart from reporting on transportation issues, Makoi has documented the deadliest disasters that hit the Philippines in the last seven years. His work primarily focused on human rights issues arising from delayed disaster responses.
Makoi is also a community organizer and a human rights activist. He is a co-founder of a documentary photography project called "Postcards from Disasters" that documents the lives of displaced Super Typhoon Haiyan survivors in his country.  
In 2015, he was named the Hurford Youth Fellow of the National Endowment for Democracy. He served his time as fellow in Washington D.C. where he spoke about internally displaced people and human rights in the Philippines. He has spoken before numerous institutions while in the U.S., including the University of Virginia, Google Ideas at the Google Headquarters in New York City, and Microsoft Policy Center in Washington D.C.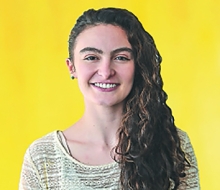 María Mónica Monsalve
Country: Colombia 
Media Organization: El Espectador
Story proposal: Mónica's story will explore why more men than women die in traffic crashes. She would also like pursue a data-driven story that investigates if the number of homicides in Colombia has actually decreased since the peace agreement was signed with the FARC.
María Monica Monsalve has been working as a journalist for El Espectador, the oldest newspaper in Colombia, for three and a half years. While working for the "Life" section,  she has covered environmental, health, science, and education issues. During this time, she has helped to strengthen scientific journalism in her country, working side-by-side with her editor, Pablo Correa Torres, who is a fellow of the Knight Science Journalism of the Massachusetts Institute of Technology, MIT.

The project she produced in order to earn the title of social communicator and journalist by the Pontificia Universidad Javeriana was recognized as meritorious. The project, entitled "El posconflicto en bocas reales,"  analyzed what could happen to the environment, mental health, cities, and education once the Peace Agreement between the Colombian Government and the former guerrilla group, las Farc, was signed. In 2017, Monsalve also attended the Logan Science Journalism Program, taught by the Marine Biology Laboratory of Woods Hole, Massachusetts, where she studied how nitrogen loading affects coastal ecosystems.She also received a fellowship from the World Federation of Science Journalists to attend the 2017 World Conference of Science Journalists held in San Francisco, California.

In 2018, Monsalve was selected to be part of the "Mission Mosquito: Information Sharing Program." An initiative that was sponsored by the United States Department of State and organized by Battelle, which seeks to spread the word about mosquito-borne disease. 

As a health journalist, Monsalve has been digging in subjects regarding terminal patients, palliative care, transplants, and deaths by violence. Regarding injury and safety promotion, she has published articles about traffic crashes and acts of violence.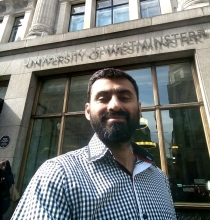 Muhammad Irtaza
Country: Pakistan
Media Organization: The Nation
Story proposal: Irtaza has proposed a series of evidence-based stories raising awareness on road crashes and their causes. He hopes to reach out to survivors to tell their stories and highlight the impact of road crashes on their lives and nationwide.
Muhammad Irtaza is a full-time professional journalist and author of a travelogue on the USA. He has been Bureau Chief of the Multan office of an English newspaper in Pakistan, The Nation, since August 2005. He has reported for his newspaper from the USA, the UK and across Pakistan. He has covered almost all beats during his over 17-year long career and produced a number of investigative and exclusive stories. 

Irtaza was a 2017 fellow in the Chevening South Asia Journalism Program at University of Westminster London. He was also a fellow of the Asia-Europe Foundation  and attended the ASEM Journalists Workshop (Jan. 2016) in Brussels. 

Earlier, Irtaza was selected for the US-Pakistan Professional Partnership in Journalism fellowship, jointly run by the US State Department and International Center for Journalists (ICFJ) in December 2011. He reported for the Evansville Courier & Press in Indiana, USA as part of the program. He is also alumnus of the Reuters Foundation and has attended two journalism training courses—Writing International News (2006) and Good Governance Reporting (2012)—run by the Foundation in London. 

He also  teaches as visiting faculty at Bahauddin Zakariya University, Multan. He has delivered lectures at the University of Southern Indiana and Allama Iqbal Open University. Irtaza also does social work and represents the UK-based NGO Forum for International Relations Development (FIRD) in Pakistan. The FIRD strives for promotion of interfaith harmony, education and tolerance in Pakistani and British societies.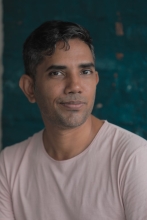 Neil Marks
Country: Guyana
Media Organization: Newsroom
Story proposal: Marks will explore why, despite laws against domestic violence, many women in Guyana continue to be harmed or killed by their partners. He will investigate the laws and if action has been taken to properly implement those laws. 
 
Neil Marks has worked in print and broadcast media in Guyana for the past 20 years. He has been a general assignment reporter all of his working life, covering everything from beauty pageants and social issues to politics and governance. 
He had a keen interest in social issues such as health and the environment. Until January 2018, he served as President of the Guyana Press Association.
Marks speaks English, Mandarin Chinese (Intermediate) and Guyanese Creole. He has a special interest in food and world culture.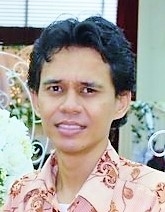 Mohd Shahrim Tamrin
Country: Malaysia
Media Organization: Careta Media Sdn Bhd
Story proposal: Tamrin's proposal aims to explore major bus crashes in Malaysia and what opportunities exist to prevent these crashes. He will also cover the significant increase of deaths among youth due to teenagers not using helmets when riding motorbikes. 
 
Mohd Shahrim Tamrin has nearly 18 years of experience in the journalism and communications field. He has worked with various mainstream and online publications, the corporate sector, sports and inter-government service.
Over the years, he has written an abundance of data-driven road traffic stories in both English and Malay after he felt that the efforts to reduce road fatalities and crashes have been lacking in Malaysia.
He has also participated in regional and domestic workshops, conferences and academic discussions on road safety including the "Regional Workshop on Motorcycle Helmets" organized by the Secretariat to Mr. Jean Todt, Special Envoy for Road Safety to the United Nations in April 2017.
He is a big supporter for improving road engineering, crash investigation, paths for school children and better facilities for pedestrians and cyclists.
In November 2016, he received an Award from the Asean NCAP (New Car Assessment Programme) for his coverage of road safety programs in South East Asia.
Last month, Tamrin  was appointed by the Transport Minister to monitor the implementation of the 51 points to improve the safety aspects of public transportation following the highest rate of fatalities ever recorded in a single crash five years ago.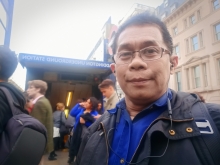 Raymond Gregorius Tribdino
Country: Philippines
Media Organization:  Malaya Business Insight, TechSabado.com, VeraFiles.com
Story proposal: Tribdino seeks to raise the consciousness of the Filipino driver to self-enforce the many road safety laws that are already are in effect. His planned stories aim to promote a culture of safety through personal empowerment and self-enforcement as well as through courtesy and properly informed execution of the Philippines' many road and driving safety rules.
Raymond Tribdino is a veteran in the automotive and road safety scene in the Philippines. In 1992 he joined Business World as a correspondent and began to report on road crashes all over Southern Luzon, constantly developing in-depth short pieces on overloaded buses and colorum (non-authorized) passenger transporters that directly contributed to the road crashes and road deaths.
In 2002 Tribdino left writing temporarily and joined Nissan Motor Philippines eventually to become the senior general manager of marketing and sales. There he pushed for safer cars. As product planner, he collaborated with engineering to ensure the mandatory installation of three-point rear seatbelts (the law only required 3-point front seatbelts) and both driver and passenger airbags for all applicable car variants since 2004. In 2007 he set up the Nissan SUV Safety School, a safety awareness campaign that ran for two full years. It was a brand-agnostic activity that trained SUV drivers how to safely handle a larger vehicle on highways (primarily to avoid collisions with motorcyclists) as well as off-the-road driving using simulated conditions.
 
Since 2016 he has written a series of road safety articles for Malaya Business Insight, which included topics such as road rage, pedestrian safety, road engineering, tricycle safety, and vehicle overloading. His piece questioning the jeepney's (a locally assembled people carrier) roadworthiness was cited during public hearings for the Philippine Utility Vehicle Modernization Program. 
"Tribs," as his colleagues call him, is also a professor and faculty adviser at the Philippine Women's University. He is a recipient of the World Health Organization Road Safety Fellowship under the Bloomberg Initiative for Global Road Safety 2015-2019.  This fellowship is in cooperation with Vera Files, an independent Philippine non-profit and online investigative news organization. He is married to Lourdes Escolano, who herself writes about road safety and women empowerment. They have five children, and two of his sons are also journalists.