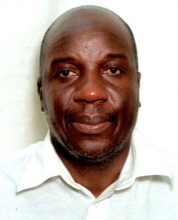 Andrew Mtupanyama
Country: Malawi
Media Organization: National Publications Limited
Story proposal: Mtupanyama will analyze the number of drowning cases in Malawi and engage authorities on what can be done to prevent further cases of drowning. He will also share some of the issues that people with disabilities experience during natural disasters.
Andrew Mtupanyama is a Malawian journalist working for Nation Publications Limited (NPL). Mtupanyama holds a certificate in journalism, from Malawi Institute of Journalism in 1997, a diploma in computer studies from the National College of Information Technology in 2006, and a diploma in graphic media studies from the University of Malawi in 2014. 
At NPL, Mtupanyama has served as a technical journalist; at Nation Online, he served as co-webmaster before being promoted to his current position as technical editor (printed publications) in 2012. Over the years, Mtupanyama has blended his feature writing, graphic designing and photography skills to tell comprehensive stories. He has developed a passion for solutions and advocacy journalism, as noted in his "Do It Yourself" column in The Nation on Sunday and his human-interest features. 
Last year, Mtupanyama was named the second runner-up in the Africa Climate Change and Environmental Reporting Awards organized by the Pan African Climate Justice Alliance in Nairobi Kenya.
Stories produced through fellowship: Drowning Deaths Ranked Third Globally; Silent Crisis in the Water; Teaching Children Survival Swimming; Lessons From Zanzibar; Can Technology Make the Water Safe?; No UN Resolution to Drowning Prevention
Dewi Safitri
Country: Indonesia
Media Organization: CNN Indonesia 
Story proposal: Safitri's story idea focuses on the importance of having a conversation about drowning prevention at the national level. Safitri believes a national discussion is imperative for Indonesia due to water accidents (both man-made and natural) that occur almost daily.
Dewi Safitri has nearly 20 years of experience in journalism. Since the 1990s, Safitri has worked in print, radio, television and online. To date she has worked for several local news organizations, including the BBC and CNN offices based in Jakarta. In 2011, Safitri received an award from the United Nations Environmental Program (UNEP) for reporting on the role of Islamic teachings in forest conservation and climate change efforts. In 2014, Safitri received a Chevening scholarship for a master's degree in the field of Science, Technology in Society in the U.K. 
Story produced through fellowship: WHO: One Person Dies Every 90 Seconds due to Drowning