In partnership with the World Health Organization (WHO), ICFJ extended opportunities to over 350 journalists from 45 countries to participate in road safety reporting programs. These training sessions and global conferences worked to deepen participants' knowledge and expand their access to experts with the goal of raising awareness and spurring dialogue around critical – yet underreported – road safety issues. 
2021-2022 WHO Road Safety Programming
ICFJ held four virtual workshops in July of 2021 for 60 participants from Latin America, Africa, and APAC. The workshops were led by a technical expert from WHO or a relevant partner organization and devoted to helping participants deepen their understanding of priority road safety issues, and an ICFJ media experts who focused on developing participants' skills to produce data-driven and compelling stories connected to policymakers.
ICFJ provided 20 collaborative reporting grants between $500 and $1,500 upon the conclusion of the virtual workshops and submission of a story proposal/budget. These grants supported teams of two or more journalists working together to produce in-depth, joint reporting projects around underreported road safety issues that were identified during the virtual workshops. .
ICFJ conducted a WHO Road Safety reporting contest to raise awareness and spur dialogue around critical – yet underreported – road safety issues with a Vision Zero/Safe System Approach. Journalists reporting on road safety in English, Spanish or Portuguese in Bangladesh, Brazil, Colombia, Ghana, India, and Uganda were eligible. To be considered, a road safety story must have been published between August 1, 2021, and December 1, 2021. In each of the eligible countries, a $1,500 first-place prize, a $1,000 second-place prize, and a $500 third-place prize were awarded in March of 2022. The winners of the contest are listed here.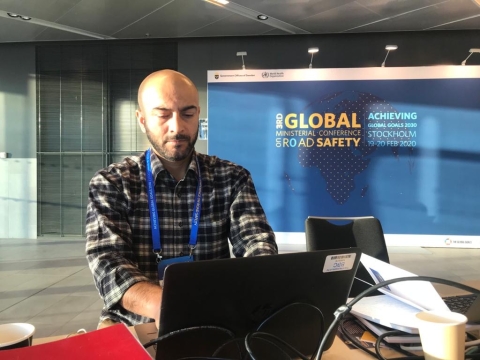 Highlights of the previous Road Safety Reporting programming
Our programs brought together over 350 journalists from 45 countries for training on road safety and given them the opportunity to report on global conferences that connected them with leading experts in the field. 
Our Fellows reported from the 2nd Global High-Level Conference in Brazil and the 12th and 13th World Conferences on Injury Prevention and Safety Promotion in Finland and Thailand.  
Our reporting fellowship cohort attended the 3rd Global Ministerial Conference on Road Safety co-sponsored by WHO in February 2020, where minister-led delegations from more than 80 countries convened. 
Our participants produced more than 250 stories that have raised awareness about underreported safety issues, spurred public dialogue around urban infrastructure and policy, and even engaged lawmakers. For example, the opening of a controversial footbridge in Manila was postponed after a story by 2018 Fellow Makoi Popioco spurred online debate about the project's impact on road safety. Beyond story production, ICFJ's reporting Fellows continue to introduce new data and tools to their newsrooms and incorporate new and engaging methods for reporting on safety issues.
About the Training of Trainers
In continuation of this effort to empower journalists by equipping them with best practices and expertise on road safety reporting, ICFJ conducted three Training of Trainers (ToTs) series that created a core group of 30-45 journalism trainers who are currently scaling the program's impact across 15 target countries from the Americas, Western Pacific and South-East Asia, and Africa.
The virtual ToTs sessions were designed to enable select local journalists to independently develop the capacity within their local networks for improved and increased road safety coverage. These online training courses were meant to maximize interaction between participants and their trainers, facilitate group discussions, and ensure that trainers were able to address the questions and concerns of participants. The selected participants should now be able to support journalism on road safety, but more importantly, become trainers and mentors and eventually conduct their own road safety reporting trainings. 
ICFJ provided small grants to support selected ToT participants to lead their own road safety reporting training. In addition to the funding support, ICFJ provided one-on-one virtual mentorship to participants as they planned out their training after the ToT trainings.
Program Dates:
9/2/2020 - 4/30/2022
Contact Info
Sher Khashimov
Program Director
skhashimov@icfj.org
Rebecca Blessing
Program Assistant
rblessing@icfj.org