ICFJ's Early Childhood Development Reporting Fellowship helps journalists improve news coverage of child health in their countries, while building a global network of reporters covering this critically important issue. These one-year fellowships provide mentoring from leading health journalists and access to experts on issues ranging from nutrition to early education. Journalists from Bangladesh, Brazil, Kenya, Nigeria, and Tanzania are eligible to apply.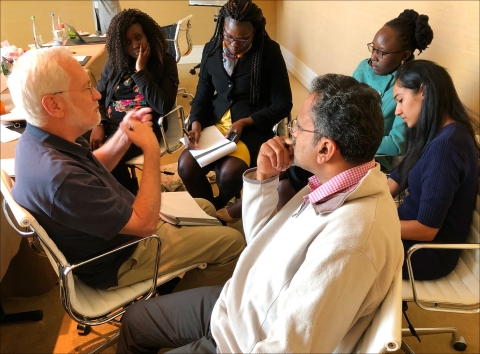 Some highlights:
Fellows have produced more than 600 stories about child health and development since March 2017, which have been viewed more than 15 million times.
These in-depth reports have focused on issues such as childhood malnutrition and obesity, the effects of toxic stress on children born in prisons and the importance of creative play to development.
Fellows' reporting on health officials' failures has helped prompt government action against them and resulted in monetary support for children profiled in stories.
As a result of the fellowship, these journalists are becoming thought leaders on child health and are setting new standards for investigative reporting on these critical topics.
The goal of the fellowships is to improve news coverage of child health and form a global network of reporters covering this critically-important issue.
About the Fellowship
During their year-long fellowship, journalists receive virtual training and mentoring, as well as financial support, to produce regular stories on nutrition and early-childhood development that are relevant to their home countries.
After an initial online orientation, fellows are assigned mentors who work with them as they produce their stories. ICFJ conducts regular webinars with experts in the field of early child development during the fellowship year. Each fellow participates in two reporting trips to countries that are implementing successful and innovative approaches to supporting childhood development. 
The Children's Investment Fund Foundation and Fundação Maria Cecilia Souto Vidigal sponsor this fellowship.
Apply to the Fellowship
The fellowship is open to English-speaking journalists covering issues of child health and development for news outlets based in Bangladesh, Brazil, India, Kenya, Nigeria and Tanzania. Successful applicants must be employed by a news outlet or have a commitment from a news outlet to publish or broadcast the reporters' coverage in order to participate. An ideal candidate will have previous experience covering early childhood development issues, but journalists who currently cover health or nutrition-related topics and are interested in increasing their coverage of children's issues are welcome to apply.
Applications for our third round of Early Childhood Development Reporting Fellowships are now closed.