Africa: Building New Technologies for Storytelling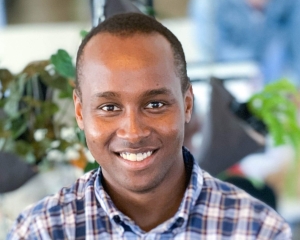 ICFJ Knight Fellow David Lemayian leads the development of journalistic tools and software for Code for Africa, the continent's open data and digital media pioneer. His projects help local newsrooms to produce innovative storytelling and to increase engagement with their audiences across platforms. Lemayian is an experienced technologist with a track record of finding creative ways to use technology in media, government and civil society organizations. He manages Code for Africa's team of software developers and oversees all related technical infrastructure. They work in collaboration with a pan-African team of ICFJ Knight Fellows and associates. 

Among projects where Lemayian plays a leading role:
HURUmap -- Media in Tanzania and Kenya are now able to report on trends in census and health data using the online data mapping tool HURUmap. The tool, created by Lemayian, is a version of the South African mapping tool WAZImap. Knight Fellow Catherine Gicheru has championed its use in Kenyan newsrooms and Knight Fellow Omar Mohammed has done the same in Tanzania. The Kiswahili newspaper Mwananchi used HURUmap to report on vital issues such as a shortage of teachers in public schools and to reveal that malaria is the country's leading cause of death among infectious diseases.
Star Health -- The Star newspaper in Kenya created a special portal to feature coverage of key health issues, with a host of tools created under Lemayian's guidance that help citizens make informed choices on their healthcare. Knight Fellow Gicheru has worked with journalists at the newspaper to use the tools in stories about around health issues. One of the tools, Dodgy Doctors, has empowered citizens by giving them the ability to check on the qualifications of their healthcare providers. Another tool, Hospital Locator, allows citizens to find health facilities closest to their homes.
AfriLEAKS -- a platform that allows citizens to leak confidential documents of interest to the public. It's run by an alliance of news organizations committed to speaking truth to power. The platform protects the identify of citizens who use it, and the news organizations use the information to produce investigative reports.
sourceAFRICA -- Africa's largest repository of searchable documents that journalists can use in investigations. It's an investigative tool developed and maintained by Africa's largest association of investigative newsrooms, the African Network of Centers of Investigative Reporting (ANCIR).
TaxClock -- Currently being used in Kenya and South Africa,  Tax Clock is a web-based tool that allows citizens to understand how their national budgets are allocated to various parts of the economy. News organizations use the tool to develop stories on government spending.
Lemayian has served as Code for Africa's lead technologist since 2012. He is also a data literacy bootcamp trainer and organizer. He has facilitated bootcamps for the World Bank Group in Moldova, Malawi, Nepal and Tanzania. He is a former winner of the Google Android Developer Challenge for Sub-Saharan Africa and was a Global Editors Networks Data Journalism Awards Finalist.
 
Other ICFJ Knight Fellows working across Africa: 
Justin Arenstein, Code for Africa's director and lead strategist 
Catherine Gicheru, editorial specialist
Jacopo Ottaviani, data journalism and multimedia specialist
Omar Mohammed, digital media specialist
Chris Roper, engagement specialist