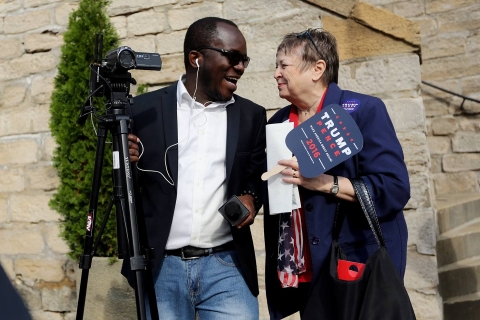 Battle lines were drawn as Americans voted on Nov. 8, 2016, for their next commander in chief and state representatives to Congress. Journalists in the United States and abroad eagerly covered this groundbreaking transition of power.
The International Center for Journalists (ICFJ), with support from the U.S. State Department's Foreign Press Centers and U.S. Embassy Posts, invited 23 global journalists to report on the 2016 U.S. elections in battleground states.
The selected participants for the "2016 General Election Embed Program" were hosted by newsrooms across the country.
From Oct. 31 to Nov. 9, 2016, these reporters had a front-row seat to history as they worked side-by-side with U.S. colleagues to cover the final days of the campaign.
The participating journalists produced dozens of stories about the elections and American voters for audience in their home countries. Many also wrote about the election for their U.S. media hosts, providing an international perspective on the history-making event.
The program ran from October 26, 2016, to November 10, 2016.
Before embarking on their reporting assignments, the international reporters spent two days in an orientation program at ICFJ in Washington, D.C. They attended training sessions led by experts to deepen their knowledge of the U.S. electoral process and the watchdog role of the media.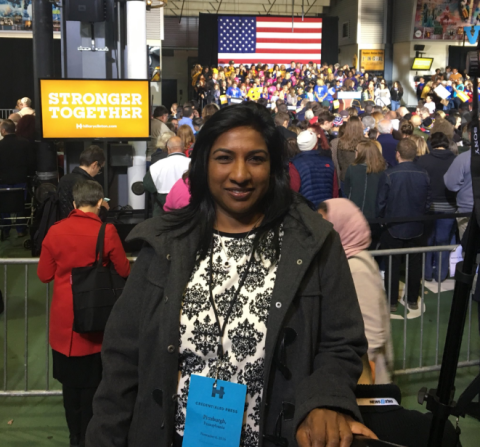 After they fanned out across the country to cover the general election, the journalists returned to Washington, D.C., for a debrief session.
Participants reflected on their experiences and engaged in discussions on how they can apply what they have learned to future election coverage.
Read the Participants' stories and explore a map of their "battleground" reporting locations here.
Program Dates:
October 26: Participants arrived in Washington, D.C.
October 27 – 28: Participants attended an orientation program hosted by ICFJ in Washington, D.C.
October 29: Participants traveled to "battleground" states for media attachments
October 30 – November 8: Participants covered the U.S. general election
November 9: Participants attended a wrap-up program in Washington, D.C.
November 10: Participants returned to their home countries
This program built on the success of our 2012 program where we brought 48 foreign journalists to the U.S. to cover the elections.
Hosts and Participants
Colorado:
Florida:
Iowa:
New Hampshire:
North Carolina
Ohio:
Pennsylvania:
Virginia:
Wisconsin:
Stories
Program Dates:
10/25/2016 - 11/9/2016